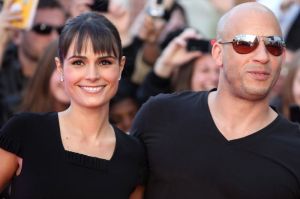 All hail… Vin Diesel? The meaty and mumbling actor finds himself back on the A-list this morning after Fast & Furious shattered all expectations over the past three days, ringing up a gargantuan $72.5 million in box office receipts. That total represents the biggest opening ever for the month of April, surpassing previous record-holder Anger Management by some $30 million. Unfortunately, the returns weren't as lucrative for Adventureland. Greg Mottola's touching and nostalgic follow-up to Superbad opened in sixth place with an estimated gross of $6 million, putting it in the company of such blockbusters as Waiting and The Girl Next Door. Ouch. From a financial standpoint, it turns out Jesse Eisenberg isn't Michael Cera after all. As we do each Monday, here's a breakdown of the top-five at the box office.
1. Fast & Furious: $72.5 million ($72.5 million total)
Whoa. To put this opening in perspective, just look at some of the other records that Fast & Furious broke. The $72.5 million opening is the highest in the history of Universal Pictures, besting The Lost World's $72.1 million debut back in 1997 (!); it's the fastest start ever for an action movie, as well as a movie about cars, topping The Bourne Ultimatum and Cars, respectively; and with the exception of The Passion of the Christ, this opening is the biggest ever between the months of January and April. This kind of number feels like a game-changer, especially because no one saw it coming—even the most aggressive prognostications had the fourth film in the series topping out at $50 million. Despite the spring release date, Universal marketed this film like a summer blockbuster (right down to a Super Bowl commercial) and got themselves summer blockbuster results. If you build it, they will come… in droves.
2. Monsters vs. Aliens: $33.5 million ($105.7 million total)
Last weekend's number one movie—a record setter in its own right—fell a reasonable 43% into second place with an estimated $33.5 million. Not only is Monsters vs. Aliens well on its way to grossing upwards of $180 million, it has already surpassed Watchmen in only ten days of release—just another knee-to-the-groin for Zack Snyder and Warner Brothers.
3. The Haunting in Connecticut: $9.5 million ($37.2 total)
With a nearly 60% fall from last weekend, it appears that a crazy poster can only take a movie so far. Next stop, a June DVD release!
4. Knowing: $8.1 million ($58.2 million total)
Are audiences getting tired of watching the world end? Since the runaway success of I Am Legend, films like The Happening and The Day the Earth Stood Still underperformed at the box office despite their apocalyptic leanings. And while Knowing is certainly being considered a success, the numbers don't really bear that out. For an effects-heavy action film starring Nicholas Cage, a final total gross under $70 million—where Knowing seems to be headed with its weekly depreciation—feels decidedly blah.
5. I Love You, Man: $7.8 million ($49.2 million total)
Once again, I Love You, Man is the proud owner of the lowest week-to-week decline in the top-ten. The film eased only 38% this weekend and now looks poised to end up with a higher final tally than both Forgetting Sarah Marshall and Role Models. The best part about the success of I Love You, Man, however, is that while it is certainly a hit, it isn't so much of a hit that you have to start hating on Paul Rudd and Jason Segel. Everybody wins!