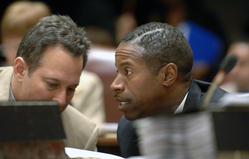 ALBANY—After yet another failure to hash out an agreement on how to bail out the M.T.A. this week, State Senate Majority Leader Malcolm Smith declared that it was no longer about the merits, but purely about "what gets us there with the votes we need to get it passed."
It was probably his most explicit public admission that his narrow majority and the disparate agendas of his members are making it next to impossible to complete the state's business. At this point, it's not just the M.T.A. deficit—it's also same-sex marriage, gun control measures and rent regulations, among other items.
What this means, as an increasingly gruesome backlog of the state's most urgent business piles up in the non-functioning Senate, is that no one even knows who to talk to anymore about possible solutions.
"From my perspective, it's extremely frustrating that everyone from the staff down to the speaker to the most recently elected senators can't speak for anyone but themselves, and don't," said one person who represents a major interest group with business before the Senate. "Everyone involved should be educating these folks that they actually have a job to perform. It's not just about getting reelected, it's about running the state."
Alan Lubin, executive vice president and often the point lobbyist for New York State United Teachers, said that since Smith took the majority, his lobbying has focused on individual senators.
"Most of our work was done with the majority leaders, who would make our case to our party. We always dealt with individual legislators on issues that were close to them," Lubin said. "Now, with something in Suffolk County, I feel that I have to go to George Maziarz and Ruth Hassell-Thompson, because I don't see the leadership taking positions on bills, and if they do, they can't always deliver."
One veteran state senator just shook his head when I asked about what could break the logjam. Democrats in the Assembly regularly scoff. Assemblywoman Amy Paulin was being diplomatic when I asked her before the "dump day" of bill introductions how the new majority had affected efforts of people in her chamber.
"It's almost like working with family in a way, because you're in the same party," Paulin said. "You can find people with a similar ideology a little more easily. The question is, can they pass the bills?"
Minority Leader Dean Skelos, in an interview yesterday, put it cuttingly.
"Unfortunately, when you're frustrated, sometimes you lash out at those who you love the most and who you deep in your heart wish were still in the majority, that know how to govern, have governed in the past, have made tough decisions in the past and have worked in the end with the speaker and with the governor—no matter who it was—to get some sort of result," he said.
He of course predicted those days would come in 2010.
There is agreement from some corners that the logjam won't be broken until the next elections—whether they bring a flip or a wider margin for Democrats that provides a less extortion-friendly incentive structure.
Others hold out hope that Smith's central staffers will be able to whip together coalitions around issues. One prominent lobbyist likened the progression of things to a train leaving the station: It starts slowly, and then picks up a tremendous amount of momentum.
Lubin thought Paterson's involvement could help. He served in the chamber for a while, and his affable nature would make him a natural emissary to negotiate issue-based coalitions with Republicans. That seems less likely, as Paterson has increasingly turned his back on Smith in recent days, developing his own M.T.A. plan, in hopes of reviving his own political fortunes.
When I asked Monday how he would gather 32 votes with respect to the M.T.A., Smith alluded to bipartisanship, but blamed Republicans. I asked if any of the Democratic members that have gleefully held him him over a barrel were to blame.
"No, no, no," he replied. "My members, at this point, we're ready to move on a plan because we want to get something done. They've voiced their opinion. At this point, all we're saying is, everybody should have the opportunity to vote for this plan. Everybody has something they can disagree with, and I understand that, but we have to be big boys, and big men, and big ladies, and say, 'Listen: Here's a situation, right now, that is basically crippling state government. And we're here to make sure that we do our job.'"