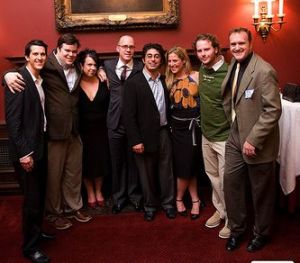 On a Saturday night in early March, Matthew Knell asked New Yorkers to stay in and sit in front of their computer screens. Mr. Knell, MTV's senior manager of social media product development–along with Gradon Tripp, who works in business development for online donation company Firstgiving, and Meg Fowler, a Vancouver-based writer—had organized a virtual "pajama party" for their charity organization, Social Media for Social Change. On SM4SC's Web site, they describe the organization's mission: "We want to use the tools that are helping businesses and companies grow to do something more than make a buck… we want them to make a difference."
On March 7, the group organized the online event, called Stay In and Help Us, and asked people to calculate how much money they usually spend to go out on a Saturday night (say, $40 at the movie theater or $80 for dinner and drinks) and donate that amount to raise funds for City Harvest, a New York-based nonprofit organization that rescues food from restaurants and supermarkets and delivers it to programs that feed the hungry. For entertainment, Stay In and Help Us participants could check out Twitter and Tumblr for real-time commentary and live audio and videocasts of others participating in the cause. The organization raised about $1,400 within six hours. On March 26, they asked their online buds to participate in another Twitter-based event, TenBuckThursday, to fuel online donations.
On April 3, Messrs. Tripp and Knell are hosting a more traditional charity event for City Harvest—a swanky cocktail party at the Roger Smith Hotel, with an open bar, live music and an auction. SM4SC is part of a unique collection of charity organizations that combine traditional fund-raising tactics—parties, mixers, events—with the power of social media to not only spread the word about these events and collect micro-donations (perhaps inspired by Obama's online campaign), but also make charity work less corporate and more personal. Some call it micro-philanthropy.
"Social media democratizes fund-raising," Mr. Tripp explained, phoning in from Boston. "In the traditional way, an organizer organizes it for the charity and for them to cover their costs, they're reaching out to the Bear Stearns, the Fidelitys, these big name, big-pocket donors who can cover big costs for the event," he said. "What social media has done is said, instead of two or three big-dollar donors, we're going to ask for 200 or 300 small-dollar donors."
Social media not only reaches those chatty "influencers" tweeting away on Twitter, but those peoples' entire online networks and the networks of the people who follow them. The Internet opens up whole new layers of charity circles to tap into.
Using the Internet also breaks down geographical barriers, Mr. Tripp added. "New Yorkers have the night," he said, referring to the April 3 event. "Online, you have a relationship with people all around the world who can identify with the cause that you're working towards." In fact, Mr. Knell told The Observer, only two out of the 38 donors for the Stay In and Help Us event were New Yorkers—even though City Harvest is a New York-based organization.
But for their part, city tech folks are not just attending the April 3 evening, but also donating their time and services for a silent auction. For example, Lisa Lacy, a Huffington Post food blogger, is donating a one-on-one cooking lesson; Whitney Hess, a user experience designer, is offering her services; and Fred Wilson, managing partner of Union Square Ventures, will host a "private power lunch." "That's probably the highest, most valuable donation they can give—their time," Mr. Knell said.
The Roger Smith Hotel offered a free space, catering and an hour-and-a-half open bar for the event, and SM4SC recruited several corporate sponsors, including Yelp, the user-generated review site, to donate cash and services. But most donations to City Harvest are coming straight from attendees and online donors. "If we had to rely on corporate donations, it would've been a lot tougher," Mr. Knell said. "But I think spreading the message and distribution and getting people behind it, there's really been no cost involved for us. I don't know if we could've done any of this without social media."
Messrs. Tripp and Knell are "social media friends," as they put it—meaning they follow each other on Twitter. Last June, Mr. Tripp had the idea to use social media platforms like Twitter to help fuel charity events. "The social media world has a lot of get-togethers," or "Tweetups," he explained, "and, not to put it too bluntly, but it's a lot of patting each other on the back. You know, like, 'Hey you're a tech guy, I'm a tech guy,' type thing…The idea was to have a social media gathering that did more than just celebrate the fact that we had this one thing in common."
In October, Mr. Tripp and Mr. Knell organized a charity event at the Harvard Club in Boston and raised more than $20,000 for Jane Doe, an organization that fights domestic violence and sexual assault. "It was just supposed to be a single event," Mr. Tripp said. "A nice little gathering, do a little bit of good and then we can go back to patting each other on the back. But then, talking to Matt, talking to just everybody, they were really like, this is something new, this is something that nobody has really dived into."
So they decided to do another event, this time in New York. Mr. Knell read some articles about food and hunger charities struggling to survive because corporations were pulling funds and volunteers. So they decided to organize the April 3 event to support City Harvest.
Currently, they have sold 142 tickets, at $35 to $45 a pop, for the night. They're capping it off at 200 people so they expect to sell out and raise at least $20,000 for City Harvest, which claims it only needs 28 cents to rescue one pound of food. "New Yorkers always leave everything for the last minute so we're expecting a bump in sales," Mr. Knell said.
As far as reinventing charity work, Mr. Tripp was humble. He said it's just easy and cheap to use social media to spread the word and convince people that even a $1 or $5 donation can make a difference. "We still have the 'Old World' event, but you can market it in a different way," Mr. Tripp explained. "Combine the online microdonation and but also say let's get together and have the auctions and parties"—online, on a Saturday night in front of the computer screen, and offline, at the mixers, too.