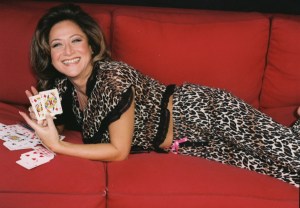 On Friday, April 3, hospitalized celebrity psychic Judi Hoffman announced that, despite three rounds of chemotherapy, her prognosis is not good.
Ms. Hoffman, 49, was diagnosed with throat cancer last August.
But she's taking the bad news in stride. The Upper East Side clairvoyant is promising to answer the eternal life-after-death question, if and when she goes.
"She may appear to you in a dream, as an apparition, or in a vision, or in a manner still unknown to this world," according to a statement from her publicist.
Her fee for services beyond the grave? Just $95—less than a fourth of her hourly reading rate.
Ms. Hoffman, a brash-talking yenta type with a penchant for leopard shoes and lingerie, has been forecasting the future for Oscar-winning actors, Vogue staffers, financial kingpins, and socialites for the past decade. She has boasted of accurately predicting Angelina Jolie's twins, Lindsay Lohan's "secret other lover, not a boyfriend," and Eliot Spitzer's downfall several months before the news broke.
She was admittedly wrong about the New England Patriots winning the Super Bowl in 2008, however, humbly estimating her accuracy in an interview with The Baltimore Sun at around "65 to 85 percent." ("Hey, if I could do it 100 percent of the time, I'd be living on Fifth Avenue, not Third," she mused.)
The Daily Transom first found out about Ms. Hoffman through aspiring model Gisele Bundchen at a dinner back in 1999. "Judi said I was going to get this big contract," said Ms. Bundchen, then 19. A few weeks later, she landed a multimillion-dollar deal with Victoria's Secret.
"I did see her for a reading years ago," songwriter Denise Rich told the Daily Transom this week. "She was very on, accurate. She's very intuitive."
If Ms. Hoffman survives, she's scheduled to star in the Animal Planet reality show Psychic in the City now under development. Otherwise, her brother, Miami travel agent Dean Hoffman, has advised her, "you need to come back and give me the winning power ball numbers."