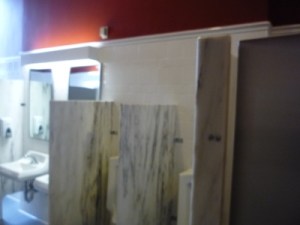 ALBANY—There have been big changes on the third floor of the Capitol this year.
No, we're not talking about the Democratic takeover of the State Senate or the re-shuffling of offices that followed. This is something much more relevant to the routine needs of staffers and legislators alike: the new bathrooms have finally opened.
That's right: we're talking about the bathrooms in the eastern hallway of the third floor, flanking Legislative Health Services and an easy walk from the Legislative Bill Drafting Commission, press offices and minority office suite.
Brad Maione, a spokesman for the Office of General Services, said that the renovations cost $463,000 and began last June. They were necessary to make things handicapped-accessible, he said.
But the restrooms—once lined with yellow tile and containing stained porcelain fixtures—are palatial. The Men's room is painted a warm red, and features inter-stall marble dividers.
Floor tiles were regraded to eliminate a non-wheelchair-friendly step, and a handicapped stall with a window view of the rising sun and the vista it illuminates: the Hudson Valley, City Hall and the Delaware & Hudson Building at the foot of State Street.
The new bathrooms opened early last week. In November and December, when the Democrats were furiously conferencing about their leadership in this corner of the building and the Men's room remained open, I observed gender power politics at its best, with some women pressing their male colleagues into service barring the door as they used the facilities, unwilling to trek through the Senate Lobby to restrooms on the other side of the Capitol.
Of course, the Ladies' Room is a place I dare not tread. For information on that topic, see Liz's companion review here.