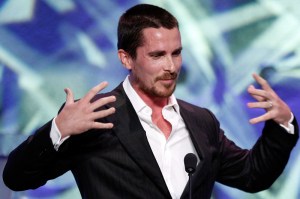 We have to hand it to Christian Bale. For as long as we could remember, he was always a conundrum: a brilliant actor that seemed to actively sabotage his stardom by appearing in mostly limited-appeal dreck. Then, something fascinating happened: Caught up in the wave of counterintuitive superhero casting choices—you can thank Tobey Maguire for this—Mr. Bale wound up starring as Batman and vaulting onto the A-list. Only he wasn't just front and center in Batman Begins; the film surrounded him with a load of talented, big-name actors (Liam Neeson, Morgan Freeman, Michael Caine). And while we have no proof of this—though if Mr. Bale wants to send us a message on Facebook, he's more than welcome to—it seems that the experience on Batman Begins gave the cantankerous star a new blueprint for how to manage his career: never star alone.
We thought of this after seeing the news that Mr. Bale has signed on to star opposite Mark Wahlberg in The Fighter, from director David O. Russell. If this project sounds familiar, it's because for the last few years it was in the hands of Darren Aronofsky, with Brad Pitt attached to star alongside Mr. Wahlberg. Matt Damon was involved, too. But they all dropped by the wayside, leaving the role to Mr. Bale. It's the second film in the last few weeks that he has agreed to do with Mr. Wahlberg: The two will be seen together in Bryan Singer's The Prisoners. Of course, both of these films will come on the heels of Mr. Bale's dual appearances this summer in Terminator Salvation, with a load of giant killer robots, and Public Enemies, with Johnny Depp. Are you seeing a pattern yet?
Sure, he's the biggest name in Terminator Salvation, but that movie is being sold on the franchise and not Mr. Bale's star wattage. Hell, the name "John Connor" carries more weight for the fans of Terminator than "Christian Bale" does anyway. Meanwhile, in the trailer for Public Enemies, he is barely shown, taking a backseat to Mr. Depp (that Mr. Depp has become the biggest movie star in the world is a story for another day). Even in his post–Batman Begins roles, Mr. Bale used this strategy: He co-starred with Hugh Jackman in The Prestige and with Russell Crowe in 3:10 to Yuma.
In the end, the plan is quite genius. If the movie fails, he's mentioned but never forced to take full brunt of the damage; if it succeeds, he gets credit for being sturdy and reliable. For an actor who once seemed adrift on his way toward movie stardom, Mr. Bale has found a comfortable resting place. Now if he can only get through a shoot with David O. Russell without the two of them murdering a craft services employee, everything will be fine.