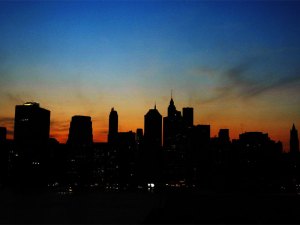 Last week New York Times executive editor Bill Keller announced that the paper would be restructuring its Sunday Metro section to incorporate pieces that previously would have appeared in the stand-alone City section, and many of the section's contributors found themselves suddenly bereft.
"The City section was one of my favorite sections of the newspaper," said the novelist and essayist Thomas Beller by telephone from New Orleans, where he's currently teaching at Tulane University. "I'm quite upset about it as a reader."
Essayist and Vintage publicist Sloane Crosley called it "a legitimate loss, both literally and symbolically."
Since 1993, City had been a quiet, quirky presence within the larger local edition of the Sunday Times. Edited by Connie Rosenblum since 1997, City took a street-level view of the five boroughs that felt like a break from the multiple-front assault of status anxieties unleashed by the pre-recession Style, Real Estate, and Travel sections, and the various versions of the high-end style guide T.
Unlike its glammier sister sections, City was for smaller subjects like Adam B. Ellick's 2007 piece about the dumpling-making women of St. George Ukrainian Catholic Church or Jennifer Bleyer's last go 'round at the Empire Roller Skating Center in Crown Heights from the same year. It was a place for Times reporters like Charlie LeDuff (now of The Detroit News) to flex more Joseph Mitchell–ish chops and bend his elbows once a week. But, most especially, it was a place for writers to wax poetic about life in New York City, to write personal essays that might not have found a home anywhere else. (This reporter, included.)
"My favorite part of the section is New York Observed," said The Ten-Cent Plague author David Hajdu, referring to the (usually) first-person essays in the section. "I like the scale of New York Observed. There was an appropriateness of scale that is rarer and rarer and as a result more and more precious."
Mr. Hajdu, who recently wrote an essay about Riverside Park, applauded the section's "absence of hype and zeitgeist," saying the editors tend to "ignore and even defy the buzz."
Essayist and novelist Phillip Lopate, who contributed to the section ever since Ms. Rosenblum brought him over from her previous section, Arts & Leisure, seemed to agree. "What I'm finding in newspapers in general and The Times in particular is that on the one hand you have the standard journalistic writing with its contemporary clichés. … And then you have the entertainment pages in which The Times, playing catch-up, is more and more trying to sound hip. But they never can," he told The Observer. "So they fling around all these slang terms like 'the big kahuna'—that was in the paper yesterday. And, there's something a little bit coarse and vulgar about this attempt to wink-wink at the reader.
"The City section was something different," he said. "The prose style was on a higher level than that kind of excessively casual, 'We're all fascinated with rap stars' kind of writing. … Part of the problem is, looking at it from a larger perspective, that The Times has so much talent in these slightly older editors. They're just so scared of a graying demographic that they keep wanting to get younger and hipper, so in a way, Connie is in an awkward place."
Ms. Rosenblum, whose book about the Bronx's Grand Concourse, Boulevard of Dreams, will be coming out in August, told readers of the NYTimes.com's Talk to the Newsroom what she looked for in 2008: "[W]e ask our writers and ourselves to use eyes and ears, to walk the streets of individual neighborhoods and see firsthand what's out there. This approach can yield rich rewards."
The result is pieces like this week's "Plot Twist at the Actors' Temple" or "The Trouble With Trees". It may also explain why writers find themselves mourning the loss of the section. One of them, Thomas Pryor, will be hosting a "toast" to the section on May 4 at the bar 17: It's hard to imagine a similar event in honor of, say, Escapes, which is also being folded into the larger Times.
"Where are we gonna find those pieces—those neighborhood pieces?" Mr. Hajdu wondered. "I'm not inclined to over-romanticize or glorify the mundane, but what you'd find there in unexpected quarters of the City were wonderful surprises."
Mr. Lopate, who has written profiles of architecture critic Ada Louise Huxtable as well as numerous essays about Robert Moses, the AIA Guide, and other topics for City, calls those sorts of articles "urban sketches." He said that he and Mr. Beller, who has a Web site devoted to the genre, had once fantasized about putting together an anthology.
"The urban sketches are a noble form which has a long relationship to newspapers," Mr. Lopate said. "Connie was recruiting writers to stretch out and do things which were reflective. Of course, newspapers have very little room for that. They used to have much more room for it." In the past a writer like George Plimpton could dash off a Talk of the Town about a man talking to himself on an imaginary cellular phone for The New Yorker, but good luck getting something like that in print today.
"I think that writers of any age who are into quirky, slice-of-life pieces that used to run a lot more in Talk of the Town and still do occasionally, it kind of was the only game in town," said Jetpack Dreams author and City contributor Mac Montandon. "For a lot of people it was the first section of The Times they wrote for. For younger journalists, it's a huge loss."
In her Talk to the Newsroom chat, Ms. Rosenblum addressed those young journalists, saying, "We rely largely on a small (half a dozen at the peak) group of young or youngesh [sic] journalists, many of them not long out of journalism school, who have an interest in writing about city affairs and don't mind the ups and downs of the freelance life."
When the redesigned Sunday Metro section hits newsstands May 24, we'll see how much room is left for those writers and their work in The New York Times. Mr. Beller is hopeful that some of Ms. Rosenblum's formula will continue to find a home. "I think the importance of the City section is not that it's a stand-alone section but that it had an editorial mission distinct from the paper," said Mr. Beller, who's written about everything from lost gloves to his apartment for the section. "It's not about coverage, it's about the kind of pieces they ran."
"Its not The Southern Oracle," Ms. Crosley—who's written several of the New York Observed essays—emailed from Paris, referring to the last-chance entry from the children's film The Neverending Story. "There are other ways in. But the City's seat within The Times mimicked the very beat it covered. [I]t always maintained a neighborhood vibe."
"Who wouldn't be sad to see that go?" she asked. "It's like watching your favorite building get torn down."