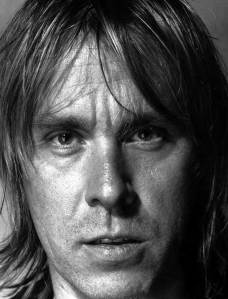 "Beautiful, beautiful! … Show me some love! … Chin up a little bit … Perfect, perfect … Fire woman! You're a fire woman."
Clay McBride's rapid-fire words were punctuated by the pops and cranks of his camera and lighting equipment. Crouched behind his 4×5 view camera, the 40-year-old lensman, who over the past 15 years has shot the big names in music and sports, shifted nimbly from one squat or kneel to the next, twirling a wooden box for support. A dark cloth partially covered his long stringy hair. He wore black jeans, a black pleather hoodie, black sneakers, a black bowler's cap and oversize, knobby gold rings on several of his fingers.
Fire woman—a petite 24-year-old artist named Melissa Graves with neon hair and lots of tattoos—was eagerly working her angles within a narrow brick passageway in a junkyard behind a converted East Village tenement. Mr. McBride recently rented an office in the basement and began shooting friends, "downtown artist types." He might shoot a Thai tranny who works at a coffee shop around the corner.
"I like to take pretty gritty circumstances and bring some production value to them," he said. "It's not just an alleyway, but it's a well-lit sort of produced alley, a little conceived, a little bit film noir. Trying to create a body of work similar to the work of Irving Penn, when he put the people in the corner and they kind of did their thing, but a little bit of an East Village remix."
He said he'd shot five or six portraits so far, mostly young women. He's a bachelor now, so that's part of it.
"You ready for the gun show?" Mr. McBride asked Ms. Graves. She smiled, nodded and removed her flannel, revealing her bra and a tattoo on her chest that, she said, carried a Buddhist theme: large wings, the words "strength through wounding," a few razor blades. Ms. Graves said she met Mr. McBride a few years ago at the School of Visual Arts, where he teaches a class, but mostly knew of him through the Lower East Side music scene.
On a nearby card table, among the soaking negatives and drying Polaroids, a boom box played Metallica's Death Magnetic. Mr. McBride will be shooting his favorite band for the fourth time when they go on tour this summer.
("Clay is an instant vibe," Metallica's guitarist, James Hetfield, emailed me. "Quick, knows what he wants, but open to the moment. Flows with the beauty or ugliness he is given. Does not hesitate.")
Mr. McBride asked his assistant, Bobby Cass, to go out front and see if there was a towering blonde teetering on the sidewalk.
Mountaha Ayoub! The two had met recently at the filming of an episode of Make Me a Supermodel; Mr. McBride was a guest photographer, Ms. Ayoub a contestant. Ms. Graves ceded the alley to Ms. Ayoub, who began thrashing about in a black fishnet top sans bra. "Smokin, smoking! … Super caliente!" said Mr. McBride from under his dark cloth. Later he gave her a signed copy of his collection of 10 years of photos: Bangers and Blunts.
"She's got a boyfriend," he told me after she had gone. "She pulled those titties out, though—that was nice of her, right?"
Across the street, on a shaded bench in Tompkins Square Park, Mr. McBride sipped a triple shot cappuccino and told me about growing up in the small town of Goshen, N.Y. His father, John Strong McBride, was a prominent attorney; his older brother, Jeff, was already an internationally known magician as a teenager.
Clay, meanwhile?
"I was into crack. I was into crack and I was into hard drugs, and I was stealing shit and getting in trouble with the law, you know, Rockefeller laws," he said "I could have gone away for a long time. So I'm lucky that I got treatment and a lenient judge, and probably that I'm white and I come from a good family—but my life could have gone a very different way."
He was 16 when he first tangoed with the sugar block. "I drove to Middletown," he said. "It was five miles away from where I grew up, and I went to the worst neighborhood and I bought it for 10 bucks, you know, my lunch money."
He attended the private Storm King School in Cornwall-on-Hudson, N.Y. At the time, he said, it was filled with kids with money and very little supervision. He'd buy crack in nearby Newburgh. When he was 17, he and a wild new pal decided to head to Manhattan. On the way back:
"I got caught in a car with a guy who had a sawed off shotgun and some drugs, and I'd already had some other incidents with drugs," he said. "And this was a large quantity, we were definitely bringing drugs from the city to Orange County. A few thousand dollars worth of crack. Enough at the time—with the temperature and the war on drugs and Ronald Reagan—to get in trouble.
"I was high as a kite," he continued. "My mind was racing. I didn't really understand the consequences until I was brought to the station and handcuffed to the wall and they kicked the chair out from underneath you."
They wanted him to get wired up and go buy drugs. Instead, he snuck off to treatment in Glen Gardner, N.J., and then moved to New Hope, Pa., and just kind of "disappeared from the state."
Our chat on the Tompkins Square Park bench was interrupted by some commotion.
"Just gimme my fuckin' cousin's phone number, you whore! He's my fuckin' cousin!" A gutter-punk, street-urchin-type kid with a duck tail was screaming at an equally filthy female version of himself, who had a few dreadlocks and some glass trinkets in her hair.