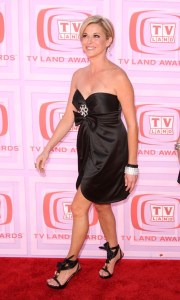 A strapping young man named Jason arrived at Katra Lounge on Sunday, April 19, sporting a freshly ironed button-down shirt and a purposeful, doe-eyed expression.
He surveyed the sparsely populated bar in search of the older woman of his dreams. "Well," he said, "it's a possibility. There are some very beautiful women in here."
He glanced to his right at Shahla Husein, 40, and Henshi Gorodetsky, 46, who were sitting in a small, dimly lit alcove, directly across from the bar. They were both wearing tiny tube dresses, bracelets and bangles, and were looking earnestly at the verile young lad.
Jason, 26, had been invited out that evening by the producers of a reality TV series now under development, titled Cougars: NYC—not to be confused with The Cougar, the new TV Land network dating show, hosted by Vivica A. Fox; or Cougar Town, the upcoming ABC sitcom starring Courteney Cox. (Ever since 40-something actress Demi Moore first swooned for 20-something actor Ashton Kutcher, it seems, the tired older-woman-meets-younger-man story line from The Graduate has somehow kept scriptwriters busier than ever before!)
"It's funny," Jason told the Daily Transom, smirking. "Because I don't know how they found me." (Turns out, he received the invite through his MySpace account.) "I mean, I'm into dating older women, but I still don't know how they knew to contact me. But it worked, I guess … I'm here."
Ms. Gorodetsky, one of five flirty 40-somethings featured on the forthcoming Cougars show, cut right to the cat-and-mouse chase: "Why is it O.K. for a 60-year-old man to be hitting on me but not the other way around?" pondered the sexy and sophisticated divorced mother of two. (Not unlike Stacey Anderson, star of The Cougar, Ms. Gorodetsky works in real estate, as a broker for the prominent firm Prudential Douglas Elliman.) "These are the kinds of questions I think the show can answer. I think it will help. Our show is not like the [TV Land] one that's out right now. That's very bad, very cheesy. Ours is not like that. It's not a dating show. It's a reality show."
"Let's make a new term for cougar, let's make it right now!" interjected her Cougars colleague, Ms. Husein. "I'm actually embarrassed by the term."
Ms. Gorodetsky agreed. "It's really denigrating, and also being a cougar implies that we're on the prowl. We're not! Guys come up to us!"
"Right. I turn a lot of guys down!" added Ms. Husein. "I'd rather be a Persian cat," she purred.
"Well, she's Persian," Ms. Gorodetsky pointed out. "I'd be a Panther."
Young Jason, meanwhile, was nonplussed by the term "cub."
"I don't need a label, it's all just normal to me," he shrugged.
Rapper 50 Cent's sexy 2005 smash "Candy Shop" blared in the background.
"I feel like most of the people that come here are very evolved," Ms. Gorodetsky said. "I mean look at this guy!" she said, motioning toward Jason, who smiled. "Plus, it's not exactly about dating younger guys on the show, it's more about the fact that we can. So, we're exploring that scenario at these types of parties."
How do they feel when the question of age comes up?
"Whenever somebody asks me how old I am, I ask them how much money they make," Ms. Husein said with a Cheshire grin.
In a nearby alcove, another Cougars starlet, Hayne Suthon, 52, huddled with a boyish Justin Timberlake look-alike wearing an open shirt—no chest hair—and black beanie.
"The reason I do all this publicity is because I'm in the restaurant business," noted Ms. Suthon, owner of Lucky Cheng's. "Whatever is good publicity for me is good publicity for my restaurants."
Still, Ms. Suthon isn't thrilled with the C-word, either. "The word 'cougar' implies a double standard," she said, "and 'cub'? We crack up about that. It's demeaning to the guy. Why can't the guy be worth his own salt?
"But," she added, "I'm a publicity whore; if you want to call me a cougar, go for it!"
Her date declined comment.