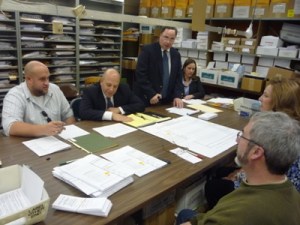 BALLSTON SPA—This morning, the Times Union described the parsing of absentee ballots in the race to replace Kirsten Gillibrand in Congress as "election purgatory."
To me, what was going on in the vault of the Saratoga County Board of Elections – a fluorescently lit windowless room with a reinforced door in the basement of Building 5 in the modern brick campus that holds the county's courts and government offices – looked like a game of blackjack.
Saratoga, the most populous of the 10 counties comprising the district, will not report its results today. Its tallies are not reflected in the latest numbers from the State Board of Elections, which show Tedisco leading by 24 votes.
Donna Gundersen, a board employee, sat on one side of the table and acted as the dealer. She was flanked by two assistants. Across from her sat Todd Kerner, a lawyer and chairman of the Clifton Park Democratic Committee and Bob Farley, a Schenectady County legislator and Republican volunteer.
Kerner called a name – we're not allowed to look at or print any to maintain the integrity of the process – and a sealed envelope was handed to him by Gundersen. In one case, someone who said they were on vacation. In another, a professional with an uncertain travel schedule.
A man at his left handed him the application for the ballot. He looked at the signature on the envelope and the signature on the application. He flipped to the page detailing the reason the ballot was requested. He mouthed the words and cocked his head in thought.
Farley asked for another name.
Kerner looked at Gundersen, and said "Object on the grounds that the vacation date isn't specified."
He handed her the ballot. Farley had just objected to a ballot, which was handed to Kerner for review. He looked it over, made a note, and dealt it back to Gundersen.
"We won't have any tallies for a while," said Diane Wade, the Republican election commissioner. She sat at the other end of the long table, across from her partisan opposite Bill Fruci, who dusted off a volume of elections returns from 1901 from the shelf. He and Wade marveled at the handwriting of the clerks back then.
Kerner and Farley finished their election district. Six ballots could be counted. Kerner had objected to 10 two on behalf of Scott Murphy; Farley had objected to two on behalf of Assemblyman Jim Tedisco.
Saratoga went for Tedisco, and Republicans are hoping he'll do well in the absentee ballot count there. The candidate's wife owns a home in Saratoga Springs, and many of the western parts of the county are contained in his Assembly district.
Gundersen tapped the ballots to square their edges.
"They all go to court in Poughkeepsie," Kerner said. Lawyers are due for another appearance there Monday. "It will get decided there."