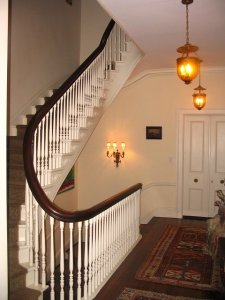 The Upper East Side gallerist Lawrence B. Salander is such an ingenious and buttery salesman that he once allegedly sold a single painting to three separate people, promising each a 50 percent share. But the disgraced art dealer is having an awfully hard time selling his 9,000-square-foot, seven-bedroom, six-story, two-entrance, two-terrace townhouse.
The tag for 63 East 82nd Street, once $25 million, fell late last month to $15.995 million. The cut came right after Mr. Salander was arrested and charged with a 100-count indictment, which accuses him of, among other things, spending more than a decade selling artwork he didn't own and pocketing the money. Mr. Salander, who only a year ago was giving high-chinned quotes like "Our society now values a Warhol for three times as much money as a great Rembrandt. … It's as if people would rather fuck than make love," was arraigned in a stained hooded sweatshirt and a stubbly beard.
Besides the indictment, Mr. Salander has to deal with his gallery's bankruptcy, plus lawsuits from clients like John McEnroe and former Observer publisher Arthur Carter.
"The house is wonderful, it's beautiful, it's gracious, but these are tough times," Lydia Rosengarten, who handles the house with Jed Garfield, said this week. "The seller needs to sell, and they want to put themselves in the position where they're at an advantage. … I think it's the smart way to go." According to her listing, the enormously mortgaged house has a landscaped garden, a central stereo system, "state of the art security" and "wonderfully proportioned rooms" with wood-burning fireplaces.
The townhouse, bought in May 2004 for $4,750,500, marked a cinematic turning point in Mr. Salander's fortunes. He gutted the place and arranged for $2.8 million of work, reportedly putting in green and red Central American marble on the ground floor, which is always an ominous sign; refurbishing the elevator; installing a dumb waiter; and choosing a two-story stained-glass window for the townhouse's rear. Permit filings with the city even show that he wanted to extend his backyard greenhouse by exactly 17 square feet. But he reportedly only paid $2.3 million, and his contractor eventually sued.
According to marketing plans that were submitted to a judge, the original townhouse sales strategy included international advertising, two cocktail parties for brokers, four open houses, and 3,000 color fliers and postcards going out to the Upper East Side alone. It's not clear what will come next, but not much real estate is selling in the neighborhood these days: Aby Rosen, who owns the massive East 71st Street mansion that Mr. Salander rented for his gallery before his fall, has yet to find an agreeable buyer to meet his $75 million asking price.