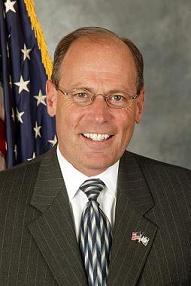 Daniel Boyle, the tough-talking former Syracuse cop who unsuccessfully tried to sink Giuseppe Cipriani's Manhattan restaurant empire, has been replaced as chairman of the scandal-plagued State Liquor Authority.
Governor David Paterson, whose aides Mr. Boyle once accused of trying to exert undue pressure on the liquor board, announced on Thursday, April 30, the nomination of Assistant Attorney General Dennis Rosen to take over Mr. Boyle's duties as chairman.
Only last year, Mr. Boyle ranked No. 21 on The Observer's list of the 100 Most Powerful People in Real Estate: "There are plenty of hassles besides getting a liquor license—but just try paying rent without one."
But, after going public with comments about officials from Governor Paterson's office trying to "intimidate" him into accepting a $500,000 settlement in lieu of yanking Mr. Cipriani's nine liquor licenses, fellow SLA members Jeanique Greene and Noreen Healey this past December voted to strip Mr. Boyle of his exclusive powers to conduct board business.
The full announcement from Governor Paterson's office:
GOVERNOR PATERSON ANNOUNCES NOMINATION TO STATE LIQUOR AUTHORITY

Governor David A. Paterson today announced he has nominated Dennis Rosen as a Member and Chair of the State Liquor Authority (SLA). Once confirmed, Mr. Rosen will replace Daniel Boyle, who is currently serving as Chair.

"I am proud to appoint Dennis Rosen to be the next Chair of the State Liquor Authority. His unquestionable character and obvious expertise in this area will provide the SLA with the leadership it needs," said Governor Paterson. "Mr. Rosen's investigations into New York's laws regulating the sale of wine and spirits and the pay-to-play practices within the industry clearly demonstrate that he will be a force for change and reform at the SLA."

Dennis Rosen has been an Assistant Attorney General with the Office of the Attorney General of the State of New York (OAG) since 1982, where he is currently an attorney in the Affirmative Justice Division of the Buffalo Regional Office. In this capacity, Mr. Rosen has extensive experience investigating violations of New York State laws regulating the sale of wine and spirits. From September 2005 to December 2006, he was the lead attorney in a statewide investigation of pay-to-play practices within the industry. The investigation concluded with many of the liquor industry's largest manufacturers, wholesalers and retailers agreeing to court orders which imposed heavy fines and ended various pay-to-play practices that had created an unlevel playing field. Additionally, Mr. Rosen has successfully prosecuted civil and criminal cases involving securities and insurance fraud, attorney misconduct, home improvement rip-offs, and telemarketing scams. He was awarded the Louis J. Lefkowitz Memorial award for outstanding performance in the OAG in 1997, 2002, and 2007.

Prior to joining the OAG, Mr. Rosen spent ten years with the New York City Legal Aid Society. He is a graduate of Brooklyn College and Harvard Law School.

As Chair of the State Liquor Authority, Mr. Rosen will receive an annual compensation of $120,800. This nomination requires Senate confirmation.