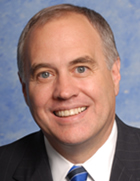 ALBANY—The State Senate is in session now, debating the budget, after the annual West Point Day ceremony.
They adjourned around 10 p.m. last night, people there said, after passing one bill. (State Senator Ruth Hassell-Thompson finally arrived in the chamber, allowing that to happen.)
In the Assembly, all nine bills were passed, though not without dissent in the Democratic conference. One of the nice things about having a wide majority—which Assembly Speaker Sheldon Silver does—is that you can afford to allow some members to avoid tough 'yes' votes. However, one bill dipped a little closer than expected: the health and mental hygiene budget passed 83 to 64.
One Democrat who voted against all the bills is Assemblyman Bill Parment. He's done this in year's past, and talked to me about what was going through his mind.
"It's always easier to be in the majority with others than be a stink in the pants, but I've been a stink in the pants for a long time," he said. "One of the problems with being the majority and voting 'no' is that you're repudiating your colleagues. And that's uncomfortable, because they worked hard."
State Comptroller Tom DiNapoli, New York's top fiscal officer, also voiced criticism. He issued a statement calling the spending plan a "buy-time budget." Here it is:
New York faced an extraordinary challenge to adopt a 2009-10 State Budget in the context of a daunting recession. My preliminary review of the budget indicates it does not adequately respond to today's economic realities.

The budget is not a long-term solution to New York's propensity to spend more than the state can afford. While the budget proposes to close an unprecedented gap, it does so by an over reliance on non-recurring federal stimulus funds and new tax revenues projected to materialize at a time of declining tax receipts.

This is essentially a buy-time budget, based on a hope that the economy recovers quickly. It's a very fragile basket to place all the taxpayers' eggs in. Instead of using the Federal stimulus to restructure the financial plan and match projected revenues to long term growth in spending, the budget uses stimulus funds as a short-term fix.

The danger is that New York could end up right back where we started, with huge budget gaps and an unsustainable level of spending. I will provide a more detailed review of the enacted budget shortly.