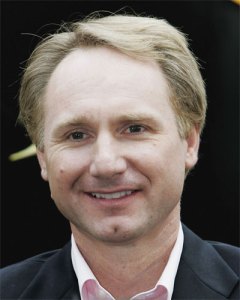 After years of painful waiting, Doubleday finally has Dan Brown's follow-up to mega-best-seller The Da Vinci Code and has announced plans to publish it on September 15. The book, titled The Lost Symbol (not The Solomon's Key, as it was originally called), will have an initial print run of five million, which according to the press release is the largest print run Random House has ever ordered.
According to a January 2008 article from The Wall Street Journal headlined "The Wait of the World's on Dan Brown," Doubleday was initially hoping to publish Mr. Brown's book in 2005, but it kept being delayed. Bob Wietrak of Barnes & Noble was quoted as saying that retailers were all "constantly asking" about the book's status, while literary agent (and former head of Time Warner Books) Larry Kirschbaum was in there saying that Doubleday had no choice but to get on their knees and pray.
It is widely believed that if Mr. Brown had finished the book sooner, Doubleday might have met a different fate during last winter's downsizing and reorganization of Random House, which saw the unit folded into Sonny Mehta's Knopf division and its longtime publisher, Steve Rubin, reassigned to another job in the company.
When the reorganization happened and Mr. Mehta took control of Knopf, publishing industry blog GalleyCat ran an item headlined "Why Doubleday's Demise is Good For Dan Brown Fans" that advanced the notion that "Sonny Mehta can get that book out of Dan Brown if he has to lock himself into a hotel room with the guy and collect the manuscript pages as they come out of the typewriter, just like he did to coax So Long, And Thanks for All the Fish out of Douglas Adams."
Mr. Mehta, the chairman of the Knopf-Doubleday division of Random House, is quoted in this morning's press release as saying, "This is a great day for readers and booksellers… This is one of the most anticipated publications in recent history, and it was well worth the wait."
According to Mr. Brown's editor, Jason Kauffman, The Lost Symbol takes place in a 12-hour period.