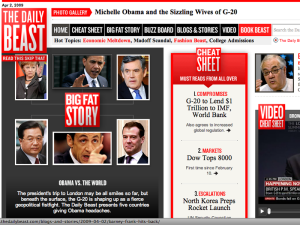 "In my most exhausted moments, I think about the story on the front page of The New York Times about bloggers having heart attacks," said Edward Felsenthal, executive editor of the Daily Beast, said at at the PSFK Conference at the Museum of Jewish Heritage in Battery Park today. By way of explaining the frenetic pace of editing a Web site, he told the crowd one of the "office jokes" exchanged over IM among staff members: "'In shower, back in five minutes.'
"That's the level we're at. It's exhausting."
Mr. Felsenthal, former deputy managing editor at The Wall Street Journal, was talking about the differences between print and online journalism in a panel titled "New York New Media."
"I actually think there are more similarities than differences," he said of his experience in old media and new. "One of the problems at newspapers over the past ten years is they focus on the differences."
Mr. Felsenthal said he joined the Beast (which was founded by former New Yorker editor Tina Brown in October 2008) because he knew the site would respect the "basic core values similar to what I had experienced at The Journal." (Meaning: "Accuracy and honesty and separation of the commercial and the editorial.")
Compared to a newspaper, a Web site is just different packaging. "The overriding similarity is that it's great content that draws eyeballs and the ability to spot it, encourage it."
He pointed to all those instant online stats that let editors know which stories readers are interested in. "We're not really about volume," he said, adding that the Beast publishes "eight to ten" new pieces a day.
And what about competition? "I don't think the online news world is a zero-sum world," he said. The Beast has "a great relationship" with the Huffington Post and the Drudge Report, he told the crowd. "I think we all do different things in the same space with a different voice; the hope is that there are enough people out there who want to consume it all."
"Drudge and the Huffington Post aren't doing any worse since we started."
"People really are interested in substance," Mr. Felsenthal insisted. "Not that fluff doesn't sell, too." He cited the Beast's Cheat Sheet, a section that allows readers to vote stories up or down in importance or interest. "The 'up' votes are for the stories about Afghanistan and the federal budgets and the economy and the 'downs' were anything to do with Britney or celebrity," he claimed.
Christine Huang, managing editor of PSFK.com, a site that covers emerging trends and ideas, asked what might be lost in online journalism's speed—like, say fact-checking? "The upside is you can correct quickly, downside is you make mistakes. … I see The Journal has disbanded their copy desk, so print is in the same boat there, too."
When Ms. Huang asked how the Beast plans to build a business model, Mr. Felsenthal pointed out that the site's financier, Barry Diller, said it would take two to three years before it would be profitable. "We're lucky to have, in Barry, somebody who understands that it takes time to build content and branding," Mr. Felsenthal said.
He went on to say that the Beast's original goal was to get up and running in time for the election last year and build a "compelling" audience. In the six months since they've launched, he boasted, "we've done that even faster than even we thought."
Perhaps addressing last week's Crain's New York Business article by Matthew Flamm headlined Tina's Vanity Play, Mr. Felsenthal said, "We are committed to being innovative in advertising. You'll be seeing some different advertising models from us." (See: Taraji P. Henson: Hollywood's New Dramatic Queen, sponsored content bylined 'The Daily Beast,' January 19, 2009.)
As for the content his site aggregates from newspapers—you know, those embattled newspapers—Mr. Felsenthal speculated that "a couple of years from now, the newspaper business will look nothing like it looks now. … I think newspapers will survive, and ultimately survive under new models."
"I don't think it's a death." But, he said, "nobody can read, can spend more than 10 minutes on Romenesko without popping a Prozac."