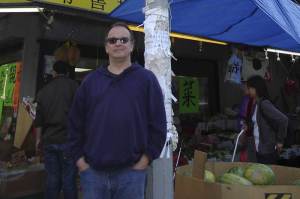 "I'm consciously trying to uproot my language and toss it and turn it," said composer Phil Kline. "I just got unhappy with my own expression and I wanted to find new ways to go."
Mr. Kline was talking about his recently released recording, a mass for string quartet called John the Revelator (Cantaloupe), and The Long Winter, a piano sonata performed by Berkeley-based pianist Sarah Cahill at the Merkin last month.
Revelator closely follows the form of a Catholic mass; The Long Winter offers irresistibly beautiful harmonies. To most listeners, both works will sound, by contemporary standards, quite traditional.
Then again, most listeners don't know Mr. Kline.
The composer, 53, is best known to aficionados of experimental music for compositions consisting of repeating loops of a single sample, played simultaneously on several different cassette players. The samples start in unison, but drift slowly out of phase due to minute differences in speed among the devices. The result is a complex and shifting brocade of sound.
How did Mr. Kline get from downtown avant-gardism to the straightforwardly melodic, practically medieval harmonies of Revelator? "I think in a lot of ways I was trying to argue and reason with my parents," he said. "They were very devout Christians. It's a kind of religious argument, with me as the young agnostic."
Mr. Kline, who grew up in Akron, Ohio, became infatuated with New York's music scene while a student at Columbia in the mid-1970s, loitering outside Philip Glass' downtown loft hoping to catch stray inspiration from the master. Mr. Kline also hosted a college radio show, on which he featured the work of a then-little-known musician named Steve Reich.
After a post-college year playing guitar in a cover band on the somewhat less progressive Cleveland bar circuit ("It was a really bitter pill to swallow," he says of the Eagles songs he had to learn), he rushed back to Manhattan, getting a Soho apartment for $125 a month two blocks away from his childhood friend, the director Jim Jarmusch. "Everybody we knew lived within a half a mile or less," Mr. Kline said. "I always wondered, just within that square mile, how many artists there were."
For a while, it was paradise: Everybody was creating. Recalling the era, Mr. Kline lapsed into the peculiar trance induced by the recitation of rock-band genealogy: "The very first band I was in downtown was a DNA spin-off. The original DNA keyboard player, Robin Crutchfield—DNA is classically known as the trio of Arto, Tim and Ikue—I think Robin was the third guy on keyboard, and he left DNA and started a band called Dark Day, and I played with Dark Day, I don't know, a year or so. And toured briefly with Tuxedo Moon. … Then I guess we started the Del-Byzanteens in '80, '81 …"
If Mr. Kline speaks with some pride of his connections, it's because his rock genealogy is also in large part the story of No Wave, the downtown music scene that followed in the wake of punk. Along with Mr. Kline on guitar, the Del-Byzanteens featured Jim Jarmusch on bass, and their friend, the writer Luc Sante, occasionally contributed lyrics. Plus, as YouTube will confirm, their songs were actually good.
Fans of Mr. Kline's experimentalist tape loops shouldn't fear that the composer, now married and the father of an 18-month-old daughter, is buckling to convention. Asked about future projects, Mr. Kline sketched out his idea for an opera based on Samuel Beckett's novel The Unnamable. Of course, this opera would have no singers. Or characters.
"Maybe it's one of those things that's better thought of and undone," he said.
ddacosta@observer.com