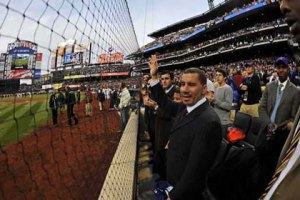 From a Wall Street Journal blog: "New York Gov. David Paterson and other politicians are getting a worse booing than the fans offered Padres reliever and former Met punching bag Duaner Sanchez. That's saying something. Only politico to get a free pass? NYC Mayor Michael Bloomberg."
Daily Intel calls Paterson's gay marriage push a "gamble."
Plans for development of the West Side are stalled, according to Deputy Mayor Robert Lieber, who would know that sort of thing.
So, it could be awhile for Atlantic Yards and Moynihan Station ("the project that 'none dare call its name,'" says Charles Bagli), too.
Assemblyman Sam Hoyt, who said recently, "Andrew Cuomo will be the governor of the state of New York," is holding a fund-raiser for Cuomo in Buffalo.
George W. Bush's former spokesperson joined Mark Penn's company.
The Richard Daines-Ken Raske debate was "[n]ot exactly pistols at dawn," writes Liz.
There's a sizable team of preservationists working on Roosevelt Island's abandoned Smallpox Hospital.
In the comments section, ByStander reminds that, though it's somewhat at odds with his ballot challenges, Jim Tedisco doesn't actually live in the 20th Congressional District.
A play about Bloomberg's smoking ban is coming to town.
Bradley Tusk had good seats too.
Tomorrow's 'Tea Parties' are inciting language that Capitol Confidential, for one, doesn't really want to see.