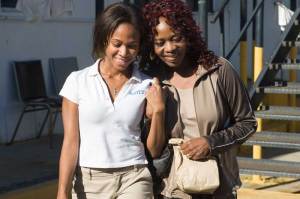 American Violet
Running time 103 minutes
Written by Bill Haney
Directed by Tim Disney
Starring Nicole Beharie, Alfre Woodard, Michael O'Keefe, Will Patton, Tim Blake Nelson
It's rare, I'll admit, but occasionally a good movie raises its head through the muck and mire and leaves me grateful but shocked with disbelief. Such a movie is American Violet, a harrowing, compelling and profoundly true story that dares to tackle an important but too rarely exposed issue of the abuse of power in the American criminal justice system. Forcefully written by Bill Haney and carefully directed by the talented Tim Disney, it challenges the inhuman boundaries of racial prejudice while chronicling the draconian arrest of an innocent 24-year-old African-American single mother with four daughters in a bump in the road called Melody, Texas. To protect the victim, the movie assigns her the fictitious name Dee Roberts, but she is played with so much terror, rage and desperation by an extraordinary actress named Nicole Beharie that complete reality is inescapable from start to finish.
On a November day in 2000, in the middle of an election that had already riled a segment of reactionary Southern rednecks like poking a hornet's nest, the racist district attorney (Michael O'Keefe, so convincing in a venomous role that he makes you hate him) led a gang of murderous cops in an extensive military-style roundup of 30 poor black citizens of a housing project for the underprivileged. Among their other illegal activities, the police force invaded a restaurant and in full view of the customers arrested a young waitress on a trumped-up charge of dealing drugs in a school zone, and dragged her away in handcuffs. Dee had no criminal record and no money to hire a lawyer. The DA had more power than the mayor; the police were in awe of him; and the judges at the courthouse were more crooked than he was. This is a town where kangaroo courts are as common as Baptist picnic socials. Dee's dilemma becomes painfully real all too soon. If she takes a plea bargain, urged by her mother (Alfre Woodard), and pleads guilty to a crime she did not commit, she'll be a convicted felon on 10 years probation who gets thrown out of welfare housing with her children. If she refuses, she could go to prison for 25 years. Under the corrupt, racially predatory DA, who makes up his own rules, there is no chance of a fair trial.
Hounded on one side by the depraved political system and harassed on the other by the unbalanced father of two of her children, Dee seems lost but outraged. Even with criminal charges still pending against her, she stands up for her rights, refuses to plead guilty to a crime she did not commit and finds two unexpected allies, in a fearless former assistant DA with integrity (Will Patton) and a Jewish lawyer from the American Civil Liberties Union (Tim Blake Nelson), who persuade Dee to sue the DA, the local task force and the police. Since the outcome is a matter of public record, we know going in how the movie will end, so it's not giving anything away to tell you it will leave you cheering. The triumphant outcome of a trial that made national headlines did change the laws in Texas involving forced plea bargaining, illegal arrests of minorities without search warrants and the misuse of dishonest testimony, but the DA still got off scot-free, leaving his political future up to the voters, and in an epilogue we are informed that he since has been reelected to the same job.
It's hard to believe this kind of discrimination and racial profiling exists today, even in Texas. But American Violet is an eye-opener on several levels. It shows why American prisons are overflowing with more than two million convicts, 90 percent of whom accepted plea bargains, in a country with 13 million convicted felons on the outside of prison walls who cannot vote, apply for passports to leave or enjoy the benefits of Medicare, Medicaid, food stamps and housing subsidies. It is also an indictment of the hypocrisy of backwoods "law" that sanctions all-black arrests in hamlets ruled by all-white cops, scowling court-appointed lawyers and crooked judges. I found the whole thing fascinating, if perhaps a bit too one-sided to be true. Director Tim Disney makes no attempt to cloak his liberal politics behind a more balanced view that might have provided a more complex view of country life. But I applaud the ability of everyone involved to reduce hours of videotaped interviews and 50,000 pages of legal documents and depositions to a rich, vibrant narrative film guaranteed to move everyone who sees it. I also appreciate the resistance to dust the heroine with lily-white talcum. Dee is not depicted as an angel who just fell off the Christmas tree; she's no drug dealer, but she is a bit of a tart with a soiled reputation and a nasty disposition. Nicole Beharie's performance is bracingly three-dimensional, and she gets first-rate support from a cast that seems uniformly inspired. At a time when almost every movie I see is about nothing at all, American Violet rattles a few cages with its story of personal courage against overwhelming odds. Sensational, nerve-racking stuff that leaves you shattered while it teaches you something.
rreed@observer.com