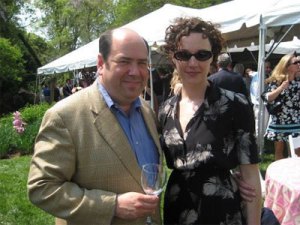 After many months of searching, which involved talking with people like Ad Age columnist Simon Dumenco, Portfolio's Mixed Media blogger Jeff Bercovici, part-time Gawker editor Alex Pareene, and former New York senior Editor and Next Book consultant Jesse Oxfeld, among others, Dan Abrams has at last found himself a media blogger.
Glynnis MacNicol, of Mediabistro's Fishbowl NY blog, will be joining Mr. Abrams' media-PR-consulting company, Abrams Research, which will launch a media aggregation-blogging site sometime next month. (Update, 2:15 p.m.: Ms. MacNicol will remain at Mediabistro through next week.)
Ms. MacNicol announced her departure from Mediabistro in a blog post on Tuesday evening. Last week, Mr. Abrams participated in a Fishbowl podcast in which he defended his company against critics like Business Week's Jon Fine and talked about the hunt for a blogger.
The specifics of her new role at Abrams Research have yet to be determined.
But presumably she will now get to spend ever more time with her close pal Rachel Sklar, who serves as Mr. Abrams' "right-hand woman."