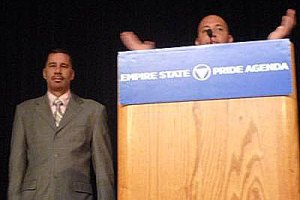 ALBANY—An estimated 2,000 people gathered to celebrate "Equality and Justice Day" just gave David Paterson a standing ovation, and chanted "David, David" before the governor gave a speech championing same-sex marriage and casting it as a civil rights issue.
Paterson was introduced by Empire State Pride Agenda executive director Alan Van Cappelle, who said, "New York's governor, our governor, the next governor, David A. Paterson."
Much of the crowd in the conference center was seated by State Senate district, and Paterson, stepping up to the podium, was essentially making the case to individual legislators (though they weren't all there) from a chamber where the passage of a same-sex marriage bill is far from certain.
Paterson forced the issue when he introduced a program bill legalizing same-sex marriage.
"When you leave, Albany will have pride," Paterson said.