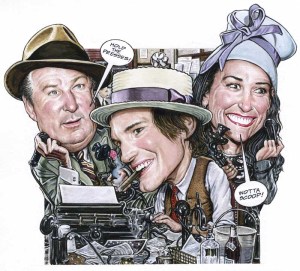 On Monday, April 13, the actor Ashton Kutcher sent a message out to his fans using the microblogging tool Twitter.
"My dad always said 'I'll believe when I hear it from the horses mouth,'" was the message his subscribers received. "twitter is the horses mouth. no more 'well the news said …'"
By Friday, April 17, Mr. Kutcher became the first "Twitterer" to attract a million readers. He beat CNN.com's continuous headline feed, also syndicated to Twitter, by a half an hour.
Mr. Kutcher did not dismiss the Hollywood press corps in fewer than 140 characters. They've done it themselves, and the words keep pouring out about it.
Once upon a time, Variety owned the town of Hollywood. It was the hometown paper. Something only became news after it was reported in Variety. And if that ray of sunlight ever hit and you finally found yourself reading your own name in Variety, then maybe one day you'd be a "topper" somewhere.
And then—as the now-familiar story of journalism goes these days—the Internet happened, and so did the imploding economy. And so a vacuum of power, that motor of everything in Hollywood, opened up in the Hollywood press corps.
"Along come the blogs, and now they share that agenda with us," said Neil Stiles, the publisher of the Variety Group. "There's no question about that."
"The agenda of the day," he added, thinking aloud, "where we once had that on our own, we now share that."
Of course, they're not all sharing nicely.
Or, put another way, Variety ceded its grip on the town entirely, and now the Hollywood press corps is in a state of revolution. There is no power structure. It's all turned inside out and upside down. Everyone claims victory, but no one seems to have it, nobody is powerful enough to measure it. And, above all, it's one nasty, mean, shrill place.
"For people working in the industry Variety and The Hollywood Reporter gave information," said Sue Mengers, the original super-agent, reached at home. "You could see what movies are casting. What movies are shooting. Newspapers could never publish that information."
Has she noticed anything different lately about Variety?
"Well, yes. It's thinner—there's less content," she said.
Variety's Spicy Life
"In the universe there are 1,000 news sources," said the veteran ICM power agent Ron Bernstein. "I'm just stating the obvious. Now there are a million alternate sources for news."
And the business model for Hollywood news, everywhere, fell to pieces. Between Variety and The Hollywood Reporter—once a worthy competitior to Variety that has been ushered to the sidelines—the business has been tanking, but also, everywhere.
Between 2007 and 2008, IMS, a third-party tracking service, said that ads and barter ads in Variety, The Hollywood Reporter and The Daily Gotham went down 26 percent; according to an internal hand count by Brian Gott, the publisher of Daily Variety, they are down 31 percent in the first quarter for the three publications.
For years, Variety made money hand over fist. It was a machine. Recently, former editor Peter Bart said that "niche journalism is the most profitable sector if it works."
If it works. And somehow it stopped working for Variety. Reed Business Information, its parent company, recently cut 7 percent of its staff, including 8 percent of the Variety Group.
Mr. Bart, the longtime editor, got kicked upstairs in favor of longtime No. 2 Tim Gray. Mr. Stiles, its publisher, outlined a few core reasons the business started tanking. The writers' strike started it; the credit crunch followed; and then the Academy Awards season, said Mr. Stiles, was considerably smaller—fewer movies and fewer ads, particularly after Christmas, when big studios gave up on any chance of putting up a campaign against Slumdog Millionaire.
"From early on it looked like Slumdog Millionaire was going to clean up," Mr. Stiles said. "So companies backed off a bit and said, 'Look, we don't have a prayer of winning so we might as well back off on the ad units because there's no point in trying to influence people.'"
And there went the all-important "For Your Consideration" ads that buoyed the trade, targeted at Academy voters.
In many ways, the Slumdog phenomenon shows how the problem with the Hollywood press corps is only an extension of the churning of the larger Hollywood power structure. After all, who made Slumdog a winner? Not the studios themselves. There was already a wolf at the door.
Sure, Variety.com was a huge traffic generator—but there was a problem, the same one that is dawning on all major newspapers around the country. Bundles of readers and page views doesn't translate into cash.
"Everybody has figured out how to build the traffic," said Mr. Stiles. "What they didn't work out is that when you get to the Promised Land, is it worth being there? The fact of the matter is, the business model is never going to be attractive."
And it wasn't: as a business, the magazine has taken a hit, and as everyone has learned—The New York Times included—digital advertising money is pennies to the (diminishing) print ad dollar.
Mr. Stiles said there needs to be a new focus—online will charge for some content, but not all. News should be free, but the archives and some specialized content will be entirely behind a paywall, which he believes will bring in money.
But, we asked him, if Variety isn't on top now, what will it take to get back?
"It wasn't, then it was, and now it isn't again, and it will be," said Mr. Stiles, the Variety publisher. "We just have to own that space again."
"It might be Variety, it might be—I don't know," he continued. "I'm aiming to make sure it is Variety, but I wouldn't be so arrogant as to assume we will be."
Across town, the L.A. Times has never been able to fulfill its potential as a must-read in Hollywood. For years, the paper has been grappling with its identity. Dean Baquet, the former editor of the paper, liked to troll the hallways and say that the Times was going to own Hollywood!
But that never happened. The L.A. Times became hamstrung by too many internal conflicts (competing desks going after the same story, staffers upset that the Web site gives into celebrity link-baiting temptations) and, of course, a staff that is less than half the size of what it was eight years ago.
And they suffer from a similar problem to Variety.