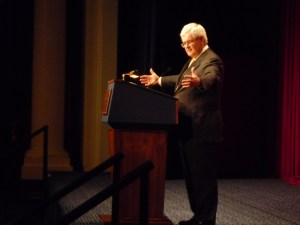 Former House Speaker Newt Gingrich said Rudy Giuliani should worry about beating Andrew Cuomo, rather than David Paterson in next year's race for governor because Democrats weren't "insane" enough to let Paterson run.
Gingrich, speaking at the New York State Republican Party's annual fund-raising dinner in midtown last night, also said Republicans running for office should "focus on solutions, not opposition."
"Yes, it's true the current governor is terrible," said Gingrich. "Yes, it's true the budget is indefensible. Let me tell you, if I had to bet money, you're not going to face the current governor next year. You're going to face [Andrew] Cuomo. So, you got to design a campaign that beats Cuomo, because the fact is, Democrats aren't insane. When a member of the Democratic Party becomes too weak to reelect, they tend to cannibalize them before we get to them."
He added, "I always used to tell people, 'If you're sure you can beat that guy, he won't be there.'"
Paterson, for his part, insists he will seek re-election. Cuomo, who hired away a fund-raiser and consulting company that once served Paterson, has not publicly ruled anything out.
Earlier in the evening, Gingrich said the revival of the Republican Party nationally could start with winning elections in New York.
"I think if we had Mayor Giuliani for governor, and we had Governor Pataki as senator, we would be in a large step towards the tidal wave to make 2010 comparable to 1994," he said, referring to the year Republicans swept control of the House of Representatives for the first time in decades.
"And I think that should be our goal."
Gingrich told the crowd he hoped "Rudy and George" realize that they have "leadership obligations that they can't avoid."
Giuliani and Pataki, separately, told reporters after the event that it was too early to say if they'd run, but both appreciated Gingrich's remarks.
During his own speech last night, Giuliani sounded like a gubernatorial candidate, criticizing the latest state budget Paterson signed. "How you possibly could have thought that by increasing spending by 9 percent would help, really indicates how this state is being run in exactly the wrong direction," said Giuliani.
Afterward, I asked Gingrich why he was so sure Paterson wouldn't be the Democratic gubernatorial nominee.
"I think you can't raise taxes as much as this governor has and win," Gingrich said.
I asked him how difficult it would be for the Republicans to beat Andrew Cuomo.
"It'll be exciting," he said.