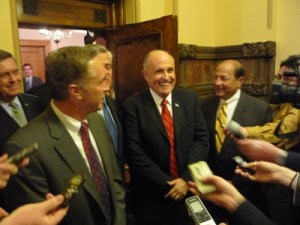 ALBANY—Former New York City mayor Rudy Giuliani, in town for the Lincoln-Reagan Day Dinner, told reporters social issues are not the path to success for New York Republicans.
"The Republican Party does best when it organizes around economic issues and issues of national security. We end up getting back to being a majority party that way. And on these social issues, I really respect [Dean Skelos] for leaving that to the conscience of the people that are voting. Our party should be built around fiscal confidence, fiscal integrity."
Liz Benjamin asked Giuliani whether this was at odds with statements he made in the Post this morning about a "grass-roots movement" against the proposal.
"There will be," Giuliani said. "That will emerge because there are people who feel very strongly as a matter of conscience against this."
He said his position has been a consistent one: he supports civil unions but not actual same-sex marriage.
He was noncommittal when asked if he would run for governor.