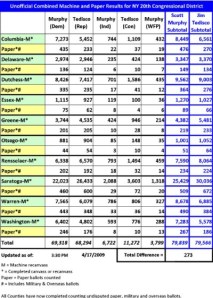 ALBANY—With all the ballots counted (except for those that have been laid aside because of objections), Scott Murphy finished with a 273-vote lead of Assemblyman Jim Tedisco in the race to replace Kirsten Gillibrand.
The overall tally, according to the state Board of Elections, is 79,839 for Murphy, 79,566 for Tedisco.
Since this morning, Murphy gained nine votes as counters finished tallying votes in Dutchess and Warren counties.
Attorneys for both campaigns will be in court Monday to determine the fate of the laid-aside ballots, of which there are some 1,300.