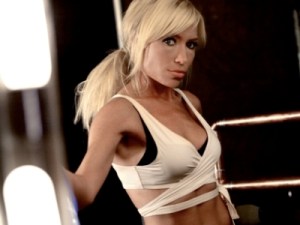 Celebrity trainer Tracy Anderson has sold a workout book, titled The 30-Day Method Boot Camp, to Grand Central Publishing, an imprint of Hachette Book Group, in a six-figure deal. It will be published in 2010.
Ms. Anderson, who has been enjoying a sweet wave of publicity due to her famous clientele, including Gwyneth Paltrow and Madonna, a flattering Times profile, and the forthcoming May opening of her $900-per-month Tribeca gym, has practically done the marketing for the book already.
"She has a great media platform," Grand Central editor Diana Baroni, who acquired the book, told the Daily Transom. "I had seen her before I even got the written proposal in The New York Times, she's been on shows, and she gets a lot of press, so that's obviously something we liked because she'll be able to spread the word about her project."
Her close relationship with Ms. Paltrow, who is a partner in her soon-to-be-opened gym, also seemed to work in her favor. "Well, yes. And that of course is also helpful," conceded Ms. Baroni with a laugh.

The book will include Ms. Anderson's unique approach to fitness, which works out the accessory muscles, or smaller muscles, in varying moves rather than making women work out with 40-pound weights, as her rep explained to the Daily Transom earlier this month. This technique helps women look "tinier" rather than "bulkier." According to Ms. Baroni, they are also exploring the possibility of including a workout video as an insert in the book.
"She has a really different theory on fitness and working out. Everything else out there just seems to be sort of similar," said Ms. Baroni. "I think women are obsessed with losing weight period, so they are always willing to try something new."
Has Ms. Baroni tried out Ms. Anderson's workouts?
"I have not tried them yet, but I probably will," she said. "I want to start with her videos and then maybe try to get down to the studio. Usually when you're working on something, you have to get involved like that."
Ms. Anderson's rep did not return the Daily Transom's requests for comment.