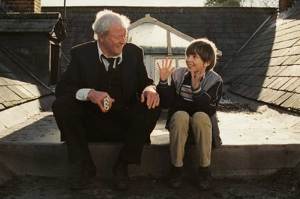 Is Anybody There?
Running time 95 minutes
Written by Peter Harness
Directed by John Crowley
Starring Michael Caine, Bill Milner, Anne-Marie Duff, Leslie Phillips and Rosemary Harris
After achieving senior citizen status, when the apple won't bite and the roles dry up, the great old stars are reduced to playing eccentric curmudgeons, terminally ill patients living out their dying days in hospital wards or randy, twinkle-eyed Alzheimer's patients in nursing homes. This is especially true in the U.K. Peter O'Toole, Judi Dench, Julie Christie and Vanessa Redgrave have already been there. Now, in a sluggish little waste of time and talent called Is Anybody There?, it's Michael Caine's turn. In real life, his radiant smile, cockney agility and wicked sense of humor are undiminished. What a downer to see him reduced to a senile hobble on the screen. It's not a business in which a lively septuagenarian is allowed to grow old gracefully.
Is Anybody There? is one of those self-conscious British country soaps fraught with snowy-haired stereotypes spouting platitudes masquerading as truisms—this time observed by a naïve 8-year-old boy whose parents are forced to turn their rambling home in a seaside town on the English coast into a sour-smelling hospice for the sick and elderly. Reluctantly watching his own childhood abode turned into an institution called Lark Hall, filled with strange noises, boiled foods, body fluids and ghouls from the funeral parlor carrying out dead inmates, Edward (played with guileless curiosity by Bill Milner, who made a profound impression in Son of Rambow) becomes withdrawn and lonely. He is haunted by the mystery of death and obsessed with ghosts, the paranormal and the question of what happens in the hereafter, but he is surrounded by old people who pay no attention to him and want to be left alone. So Edward passes the time at Lark Hall eavesdropping, secretly searching for clues to mortality. What he sees is the misery of his mother, working herself ragged, and his father, whom he overhears declaring love and lust for the 18-year-old maid.
Everything changes with the arrival of a scruffy, jaded, irascible new patient named Clarence (Michael Caine, looking like Father Christmas on Skid Row). Discarded by society and dependant on scanty government handouts, Clarence is a bitter, burned-out old man once known as a magician called "the Amazing Clarence." Still mourning the passing of his beautiful wife, no longer able to find anything positive in anyone or anything and in a constant rage over his predicament, Clarence hates children and is barely able to tolerate Edward's presence. But as feel-good movies go, for reasons completely unconvincing to all but the filmmakers, the unlikely friendship between the precocious little lad and the scurrilous old salt rehabilitates Mom and Dad (funny what a little lipstick can do to save a marriage), teaches Edward to relate to kids his own age and convinces the Amazing Clarence to dust off his old guillotine trick for the entertainment of the other patients, tragically chopping off another lodger's finger in the process. At the risk of sounding churlish, I have to admit the alleged charm of this comic misadventure eluded me totally. In fairness, Is Anybody There?, like all British films, boasts a splendid cast of character actors, including Anne-Marie Duff, Leslie Phillips and the sadly wasted, still-radiant Rosemary Harris. They're all fine. Mr. Caine seems to have a jolly time doing card tricks, but he's still a long way off from the rocking chair. Now, as the old song goes, it's time, sir, to give us "something to remember you by."
rreed@observer.com