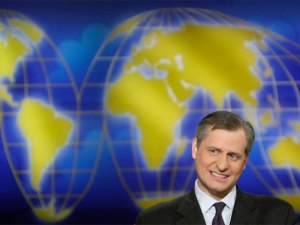 When the 2009 Pulitzer Prizewinners were announced at on Monday at Columbia University, Jon Meacham was far from New York at another institute for higher learning. The Newsweek editor and Andrew Jackson biographer was at a board meeting at Sewanee: The University of the South in Sewanee, Tennessee, when his BlackBerry "lit up."
How many emails did Mr. Meacham get Monday when his American Lion: Andrew Jackson in the White House won for biography? "Oh, probably five or six hundred," he told The Observer the next day at a reception on the 21st floor of Newsweek's New York office on 57th Street.
One message was from New Yorker editor and fellow Pulitzer Prizewinner (1994, general nonfiction for Lenin's Tomb) David Remnick, who told him, "You're about to hear from your third grade teacher, so enjoy it." (Close: Mr. Meacham heard from his seventh grade teacher.)
"I'm still a little numb," Mr. Meacham said surveying the room. "It's all very exciting."
Mr. Meacham's attention was a bit divided by the crowd of well-wishers—among them legendary Washington Post executive editor Ben Bradlee, Gay and Nan Talese, about 50 Newsweek staffers, and Mr. Meacham's 6-year-old son, Sam, who ran over more than once to offer his dad some love—but The Observer managed to ask him a question or two.
Was it strange that on the very week his magazine ran a cover story headlined "The Confessions of Eliot Spitzer" (the latest in a series of gestures The Observer's John Koblin called "The Reconstruction of Eliot Spitzer" in March), The New York Times took home journalism's top award for breaking the story that brought the former governor of New York down?
"Yeah," Mr. Meacham said with a long, almost uncomfortable pause. "I guess I think that's what we call coincidence."
At that, he laughed.