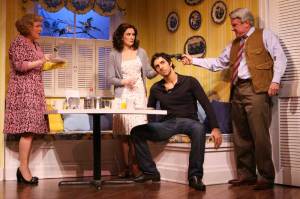 It's very good news that Christopher Durang, our Poet Laureate of the Absurd, has written a smashing new play.
Why Torture Is Wrong, and the People Who Love Them at the Public Theater is a black farce that's essentially about, well, torture, and a peculiar brand of American paranoia and bigotry—and I haven't had such fun at the theater since the recent revival of Mr. Durang's fable about his own dysfunctional childhood, The Marriage of Bette and Boo.
In a surprising season that has brought Eugène Ionesco's Exit the King to Broadway, Mr. Durang could well be one of the last American links with the Theater of the Absurd. The treasured playwright (of Sister Mary Ignatius Explains It All for You, Beyond Therapy and Betty's Summer Vacation) possesses a serious philosophy of life combined with a serious taste for the blissfully, unapologetically silly. (But then, the more dangerous his characters, the sillier they are.)
I'm reminded of the recent passing of the outrageous downtown dramatist and innovator Ron Tavel, who invented New York's fabled Theater of the Ridiculous. "We have passed beyond the Absurd," Tavel famously pronounced. "Our position is completely Ridiculous."
Mr. Durang is a spiritual heir to Tavel's noble cause. To even try to summarize the lunatic plot of all that goes on in Torture, however, would take several pages and a road map. Suffice to say, there's Luella, a befuddled, sweet mom who adores the musical Wicked and knows someone who committed suicide rather than stay through the third installment of Tom Stoppard's The Coast of Utopia; her deranged right-wing husband, Leonard, who's formed a secret shadow government that conducts "enhanced interrogation methods" in his den; and their innocent young daughter, Felicity, who must have been drunk, or drugged, when she married Zamir, an Irishman (or so he says) who's a suspected terrorist.
Also on manic hand—Hildegarde, a middle-aged secret agent in pearls whose panties keep falling down; Reverend Mike, a porn movie director and priest (he's a "porn-again Christian"); and someone with the code name Looney Toon who comments on the mayhem with Elmer Fudd impersonations: "Beep, beep! Wodents and wabbits! Intewwogating tewwowists!"
Christopher Durang is Jonathan Swift's nicer, younger brother. Only he would end Why Torture Is Wrong in a heavenly version of Hooters. Meanwhile, it's more than enough for us that this freewheeling satire of the cult of violence in a mad, mad world is a cathartic riot. Nicholas Martin has directed at exactly the right heady pace. His entire ensemble, with the hilarious Kristine Nielson, never misses a beat. And David Korins's witty scenic design adds to our delight.
WHEN YOU'RE A JET…

I WISH I could say the same for Neil LaBute in his Broadway debut at the Lyceum. Reasons to Be Pretty is the prolific playwright's final installment of a trilogy about our obsession with physical beauty, and one can't help asking why it took him three plays to bring us the same old hackneyed message. Beauty Is Within, you know. (And sexist, meathead guys aren't fair.)
It isn't just that the now 46-year-old Mr. LaBute has been churning out the same immature ideas for years (see Fat Pig and The Shape of Things). His nagging take on beauty is the same as Ms. magazine's a generation ago.
In Reasons to Be Pretty, the foulmouthed (yet needy) Steph erupts in fury, ending her four-year-old relationship to tactless (yet sensitive) factory worker Greg for describing her as "regular"-looking. (We know Greg's sensitive because between shifts he reads Poe, Hawthorne and Washington Irving.) There's also a formulaic LaBute subplot involving roughhouse male bonding and a childish chauvinist pig who's cheating on his pretty (and pregnant) wife.
Lauded by some as evidence of a newer, gentler Neil LaBute, Reasons to Be Pretty is merely soapier. It doesn't help at all that in the pompous "Note From the Dramatist" in Playbill, Mr. LaBute appears to review his own play favorably for making the argument—which it doesn't make—about "being yourself and standing up for what you believe in … The future is now. It's time to grow up and be strong."
Oh, phooey.
NEIL'S SPIEL
MAY I GLIDE past the horribly passé '80s jukebox musical Rock of Ages at the Brooks Atkinson? Performed mostly by second-raters to the golden oldies of Poison, Foreigner, Journey and so on, it's a faux arena show that would be at home among Twisted Sister look-alikes in New Jersey. Not That There's Anything Wrong With That.
It's no West Side Story, obviously. Nor is Arthur Laurents' revival of West Side Story at the Palace. The more I think about his modernized version, the more I miss the original show.
To have the Sharks speak Spanish is a blurry nod to the salsa heat of In the Heights. Sometimes the Sharks perform in Spanish, but sometimes, illogically, they don't. Mr. Laurents—the original librettist as well as the revival's director—has strongly emphasized that he wanted to make the warring gangs real this time round. He's given them a threatening contemporary attitude—but why are they still hanging around a soda fountain politely ordering cokes?
Mr. Laurents' libretto only seems more stuck in a sentimentalized past, not less. ("Thanks, daddy-o!") Jerome Robbins' 1958 ballets—re-created by Joey McKneely—are sublime; the "improvements" aren't. They're unnecessary.
jheilpern@observer.com