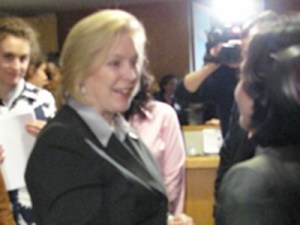 Hillary Clinton's old digs were stiflingly hot yesterday afternoon, teeming as they were with close to 150 eager New Yorkers, all of whom had taken the elevator to an "open house" event on the 26th floor of the red granite building on Third Avenue to welcome Clinton's replacement, Senator Kirsten Gillibrand, to her new city offices.
"Feel free to mingle wherever," said a staffer, trying to impose some order on the swelling crowd eager to press the new senator's hand, remind her of their existence and keep certain issues on her crowded radar.
Sandra DeFeo, a comely redhead in a pink wool suit who is co-executive director of the Humane Society of New York, was there to talk about animal shelters.