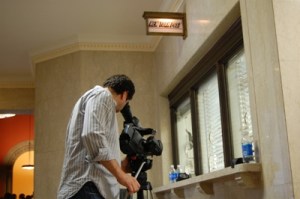 ALBANY—Alex Gibney, the noted documentary filmmaker behind Gonzo and The Smartest Guys in the Room, was on the third floor of the Capitol today with a film crew, focusing on New York Post State Editor Fred Dicker.
"I'm doing a project on the rise and fall, and possible redemption of Eliot Spitzer," Gibney said. He declined to say who else he'd interviewed.
Gibney told me he's not exactly sure when it's going to come out, but that he hopes to have the film on the screen this fall.
The Times Union points out that this is not the only thing being filmed right now in Albany, though Gibney's crew from Jigsaw Productions is not shutting down any highways.