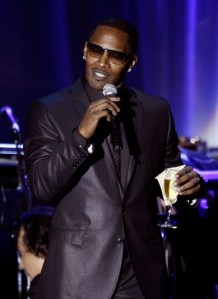 Standing on the 10th floor of his new Standard Hotel in the meatpacking district last January, hotelier André Balazs looked out on the Hudson River and the ever-rising New Jersey skyline in the distance, marveling at how much the area was beginning to resemble Hong Kong harbor.
"I had exactly the same comment," agreed Eva Ziegler, the Austrian-born global brand leader of W Hotels Worldwide, whose brand-spankin' new 223-room, Gwathmey Siegel–designed W Hoboken sits directly across the river from Mr. Balazs' Standard. "I was in Hong Kong in January … I look down here and I'm like, 'I've seen this before!' It's very similar."
With its "architecture that almost mirrors Manhattan," the new W Hoboken is essentially "an extension of New York," Ms. Ziegler told the Daily Transom with a clink of Champagne flutes, just prior to the hotel's boozy, packed-house opening party—er, "brand event"—on Thursday, April 23. (Ever the consummate hospitality professional, Ms. Ziegler had immediately switched glasses to ensure this reporter a slightly more generous pour. "I want to make sure you have the maximum pleasure," she said, laughing.)
"W is all about B and F versus F and B," the charming Ms. Ziegler noted, flipping the standard industry lingo for "food and beverage."
In the lobby bar, DJ Cassidy manned the turntables as a slinky blond model in a black cocktail frock spun round and round inside a giant, rotating martini glass emblazoned with the hotel chain's single-letter logo.
In the new restaurant, Zylo, operated by Michael Jordan business partner David Zadikoff's Cornerstone Restaurant Group, chef Troy Unruh prepared some 20,000 bites of food, using four separate kitchens, including two auxiliary sites.
Young real estate tycoons Matthew Moinian and Michael Shvo, developer and marketer, respectively, of the ginormous W Downtown Hotel & Residences at 123 Washington Street, made an appearance. (Mr. Moinian told the Daily Transom that crews were currently pouring the 48th floor of the 58-story tower.)
Outside on the red—er, black, sparkly carpet—Erin Lucas, co-star of MTV's The City, was getting a good feel for the windy New Jersey waterfront. "It's chilly!" said the lovely Ms. Lucas, sporting a vibrant multicolored dress and a pair of Louis Vuitton pumps. It was Ms. Lucas' first trip to Hoboken. "It's pretty!" she said.
Actresses AnnaLynne McCord and Shannen Doherty also turned out for the festivities. "Have you noticed how cute Hoboken is?" asked Ms. Doherty, also making her virgin visit to Jersey's scenic River Street. "'Cause I noticed it driving in. I'm absolutely amazed at how clean and amazing the riverfront is."
Ms. Doherty performed an admirable job in the role of celebrity shill. "No matter where you go in the world, when you're at the W, you're home," she told reporters.
And was she ever excited about the new W's nightlife offerings: "Of course! Like, Tenjune?! Hello?!"
Impresarios Mark Birnbaum and Eugene Remm, operators of the W Hoboken's 4,000-square-foot Chandelier Room nightspot, which offers some spectacular views of the Manhattan skyline, also operate the popular meatpacking district hot spot Tenjune. (Turns out, W Hoboken developers David and Michael Barry are also investors in Tenjune, as well as the duo's forthcoming revamp of the old Lotus club, set to reopen by the end of the summer.)
From meatpacking to Hoboken is no huge leap, Mr. Birnbaum noted: "Hoboken is 10 minutes from the West Village. Once you're out of the Holland Tunnel, it's five minutes. From my apartment in the West Village to the Upper East Side, to the Lower East Side, to Soho, it takes me about 20, 30 minutes. It takes me less time if not equal time to get here."
Giving the bridge-and-tunnel crowd a hip destination without having to actually cross any bridges or tunnels only makes sense amid the sluggish economic situation, Mr. Birnbaum told the Daily Transom: "In this economy, I love Hoboken, for the simple fact that there are so many people in the surrounding areas that are looking to maybe save some money wherever they can and it may just be cutting out the simple transportation to Manhattan and lesser price point on drinks."
Shortly after 10 p.m., party-goers crammed into the hotel's second-floor ballroom for a special guest performance by the actor and singer Jamie Foxx.
"Hoboken in the house!" he declared before launching into a short but sweet set of songs, including his trademark cover of Ray Charles' "I Got A Woman" intermixed with its inevitable Kanye West mutation "Golddigger," as well as his own recent hit "Blame It (on the Alcohol)."
"At the end," W's Ms. Zeigler told the Daily Transom, summing up the company's party-hard philosophy, "we try to create a world of 'wow' that is bigger than life, that is surprising, that is playful, you know, where you enjoy yourself, sit, party, flirt, that kind of thing."
Was she flirting? "Always," Ms. Zeigler said, laughing. "We just need to drink a big glass."