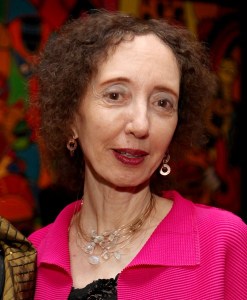 Joyce Carol Oates stuck close to her Princeton pals on Tuesday night, April 7, at the National Arts Club, where she was honored for her life's work with a black-tie and lamb-chop dinner and the club's hallowed Gold Medal of Honor.
Dressed in a frilly black camisole and a neon pink cardigan, the weightless and elegant 70-year-old author spent the pre-dinner cocktail hour floating around the century-old Gramercy Park den of culture's densely decorated parlor, athletically greeting guests and posing for photos, but never straying too far from the critic-novelist Edmund White, whose office in the Princeton creative writing department is right across from hers, or her soon-to-be second husband, the bearded Princeton neuroscientist Charles Gross.
As club members milled about and ate from the luxurious spread of cheeses and berries, Ms. Oates asked Mr. White conspiratorially if he'd noticed the "princely looking young man" in the handsome kurta who was sitting quietly by himself against the wall. "I wonder who he is," Ms. Oates said, sneaking a glance across the room at the man's regal-looking dress. "He looks like he's just waiting for someone to come up and talk to him!"
Intrigued, Mr. White suggested introductions. Ms. Oates agreed but asked meekly if he would please make the first move. "Well, sure!" Mr. White said, cheerfully. "I'll just say, 'What an interesting shirt!'" Soon the lot of them were talking happily. Turns out, the young fellow was a former financier from India–and a club member, at that!
Mr. White was to deliver one of the evening's dinner-time speeches in praise of Ms. Oates; he said he had been asked by the evening's organizers to keep his remarks brief. Others in Mr. White's boat: Ecco Press publisher and Ms. Oates' longtime editor Daniel Halpern; the painter Gloria Vanderbilt, whose work Ms. Oates has hanging all over her home; and former New Republic literary editor (and otherwise accomplished man of letters) Roger Rosenblatt, who served as the evening's designated emcee.
When it came time to pack into the dining room for the evening's main event, all of them sat together at one table. They were joined by National Arts Club president O. Aldon James, wearing a rosy bow-tie and his trademark pink spectacles, as well as Cherry Provost, the white-haired chair of the club's literary committee.
"I look on this as my escape from the suburbs," said Ms. Provost, who was born in Montclair, N.J., and currently resides in Glen Ridge. She became a member of the National Arts Club while a student at the Rhode Island School of Design, when the club sent a letter out to students offering them affiliate status for the low price of $100. "A year later they canceled the affiliation because some RISD people probably got drunk and caused trouble," she said. "At the bottom of the letter saying I was no longer affiliated it said, 'if you truly want to become a member, call this number.' It went to the bottom of my pile on my desk till I wanted to get out of the suburbs, and then I called up and got an application."
As chair of the literary committee, Ms. Provost said, she has been working on booking authors and poets for events at the club, and had grown rather fed up with all the unhelpful publicists and agents she had encountered in the process. Her husband, she said, had procured for her some authors' home phone numbers, so now she just uses those.
"Do you have any biographers in your stable?" Ms. Provost asked, turning to Mr. Halpern. He said there were probably one or two, yes. "Because here's why," she said, and told him about an art collector she had heard about whose life story would make a really terrific book.
At the conclusion of the three-course meal of salmon salad, lamb chops, and meringue with blackberries, and all the charming, complimentary speeches from her friends, Ms. Oates herself got up and thanked the club for awarding her the medal. "I'm speechless!" she said and went on to express her gratitude to Mr. Halpern, Ms. Vanderbilt, and Mr. White for saying such nice things about her during dinner.
She noted that she and Mr. White taught together at Princeton, and were due in early in the morning to teach. "We're the only people probably in this room who actually work!" she quipped, to tentative chortles.
At a quarter of 10, Mr. James said a few words by way of closing—there was something about Ms. Oates being a "literary raptor"—and pretty soon everyone was heading for the coat check; complimentary copies of The Journal of Joyce Carol Oates: 1973-1982, under their arms.