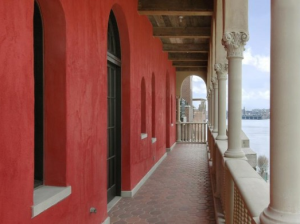 Julian Schnabel, who had to suffer the indignity of offering up the penthouse triplex and duplex at his West Village wonderland Palazzo Chupi for rent a week ago, has given those grand spaces yet another multimillion-dollar price cut.
One year ago, when his asking price for the triplex was $32 million and the duplex's tag was $27 million, it would have taken $59 million to buy the two together; by this January, that number had fallen to $41 million. According to the listings Web site StreetEasy, Mr. Schnabel now wants a mere $38 million for the two. (On the bright side, at least he's not auctioning off the 3,713-square-foot triplex penthouse or 3,963-square-foot duplex.)
At his new asking price, Mr. Schnabel is still asking more than $5,000 per square foot, which means the artist-cum-developer may need another price cut or two before Chupi's sprawls sell. Listing broker Peter McCuen—who told The Observer in January that "there wasn't a lot of discussion" over pricing—did not return an email.