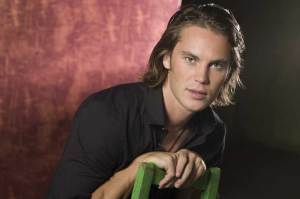 "I think gals want to help him … and a lot of guys just want to be him," said Taylor Kitsch, the 28-year-old actor who plays heartthrob football fullback Tim Riggins on NBC's Friday Night Lights. Mr. Kitsch was calling just a few hours before walking the red carpet for the world premiere of fanboy-frenzy-inducing X-Men Origins: Wolverine—he plays super-mutant Remy LeBeau/Gambit—but he was speaking to The Observer about his television character's broad (ha!) appeal. "It's incredibly flattering," he said. Oh, but Mr. Kitsch, you just have no idea! New York women are agog!
"His lips are always so red," said Lindsey Berns (rather dreamily), the director of college counseling at Brooklyn Friends. "And he gets that flush on his face … he has really beautiful skin. And I'm a sucker for well-defined arms."
"He has Brad Pitt–circa–Thelma and Louise–era lips," agreed Margaret Brown, a television producer who owns a T-shirt for Riggins' team, the Dillon Panthers. "His hair is always a little bit greasy—but you know he smells like stale beer and sweat. Yum."
"He's just so pretty. He might be the prettiest," said best-selling young adult novelist Gayle Forman.
"I think he has picked up the mantle of sweet Canadian teen hotness that was abandoned by Scott Speedman a few years ago. Long may he reign," said freelance writer Jen Silverman.
Perhaps most to the point was the view of one lady who was too embarrassed to be named: "Watching Tim Riggins every week is like watching soft porn."
So we have a question: Could ladies who love Tim Riggins help boost the somewhat troubled (negative early press, online leaks) Wolverine to big, big box office this weekend?
Mr. Kitsch hopes so. "It's a good thing to have, that demo," he said. "I think they'll like Gambit, too. He's very charming."
And indeed he is (though he's no Riggins!). Taylor Kitsch fans will be pleased to know that in the film the actor brings his twinkle and irresistible grin to the big screen quite successfully. Even among a bevy of beautiful male actors including Hugh Jackman (who we can happily report goes shirtless for much of the picture), Ryan Reynolds, Dominic Monaghan and a fantastically feral Liev Schreiber, Mr. Kitsch still manages to shine.
FOR THE UNINITIATED: In 2006, Friday Night Lights debuted on NBC, expanding upon Buzz Bissinger's best-selling book and the accompanying 2004 feature film about a rural Texas town that revolves around its high-school football team. From its very first episode, it has been miraculous television—beautiful, dramatic and heartbreaking—though its critical acclaim has yet to be matched by Nielsen numbers (on March 30, Friday Night Lights fans breathed a sigh of relief when NBC announced a fourth and fifth season, thanks to its partnership with DirecTV). One wouldn't think a show about football—on the surface, anyway—would bring in the female audience the way that it has, but many of the women The Observer spoke with consistently waxed poetic about the human relationships portrayed on the show, and specifically the finely drawn and complex male characters that have them hooked.
"That's why the show is so smart—I think there must be some great woman writer over there who's able to work out her fantasies," laughed Ms. Forman, who explained that her favorite characters—like sweet rookie quarterback Matt Saracen (Zack Gilford) and ultimate husband and father Coach Taylor (Kyle Chandler)—actually, with Riggins, present a cross section of female fantasies. Or, as Ms. Berns put it, "You hold hands with Matt Saracen, you marry the Coach but you have sex with Tim Riggins."