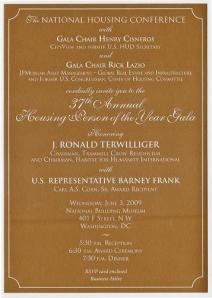 Just got this invitation to the National Housing Conference's annual Person of the Year Gala. One name featured on the invite: Rick Lazio, who may be running for governor in 2010.
Lazio is a "Gala Chair" for the event, a title he shares with former Clinton administration H.U.D. Secretary Henry Cisneros.
The N.H.C., an affordable-housing focused group, has honored many a politician in the past. Massachusetts Represetative Barney Frank is an honoree this year. The June 3 dinner is $500 a plate.