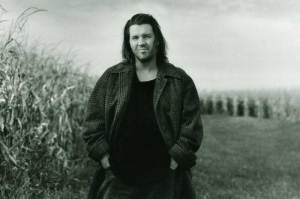 This is Water: Some Thoughts, Delivered on a Significant Occasion, about Living a Compassionate Life
By David Foster Wallace
Little, Brown, 137 pp. $14.99
Three years before he hanged himself at age 46 on the patio of the ranch house in Claremont, Calif., that he shared with his wife, Karen Green, David Foster Wallace gave the commencement address to graduating seniors at Kenyon College in Gambier, Ohio. In the aftermath of his suicide last September, a transcript of the address zinged around the Web like a talisman, less a funereal fetish object than a usable text in which the master ironist and jester spoke plainly, with painstaking precision, of his own method of getting beyond "the so-called 'real world' of men and money and power [which] hums along quite nicely on the fuel of fear and contempt and frustration and craving and the worship of self," a world in which all have the "freedom" to be "lords of our tiny skull-sized kingdoms, alone at the center of all creation." Little, Brown has now published the speech in hardcover with the title This Is Water: Some Thoughts, Delivered on a Significant Occasion, about Living a Compassionate Life.
The speech is by turns angry, funny, faux-naïve ("I know that this stuff probably doesn't sound fun and breezy or grandly inspirational the way a commencement speech's central stuff should sound") and succeeds in the same way as Wallace's fiction and nonfiction in casting a glow of enchantment over the dross of everyday life, in seeing, as Wallace puts it here, "the value of the totally obvious." Wallace's prescription to the Kenyon seniors on that sunny May morning was that a kind of grace could be attained by anyone willing to do the strenuous mental work of seeing all situations from outside that self-obsessed "skull-sized kingdom" and thus enter into an elective affinity with others. He sketches out what daily life will soon feel like to most of them—the "petty, frustrating crap" of trudging to the supermarket at the end of a long and tiring day—and how such internal strife can be avoided if you can short-circuit your "natural default setting … that situations like this are really all about me, about my hungriness and my fatigue and my desire to just get home" and instead imagine what the others in the supermarket are going through. "It will actually be within your power to experience a crowded, hot, slow, consumer-hell-type situation as not only meaningful, but sacred, on fire with the same force that lit the stars—compassion, love, the subsurface unity of all things."
Little, Brown's handsome volume arrives just in time for well-meaning parents, uncles and aunties to dispense copies to 2009's (surely economically terrified) graduates. How a college grad would interpret the gift of a book of life advice written by a man who proceeded to take his own life, well, one would need a writer with Wallace's darkly comic gifts to pen such a scene. One's sympathies go out to the editors: how to publish a speech of 137 sentences into a book? The unfortunate solution was to place just one sentence per page, giving the book the look and feel of an oracular text: Khalil Gibran's The Prophet or Rumi's love poetry. Those who embraced Wallace's phenomenal talent may find themselves wishing the Kenyon speech had been left unbound, to be folded into a future edition of his nonfiction as a three- or four-page coda. Here, when a three-word sentence—"And so on," page 87—is forced to balance an entire page on its shoulders, the reader starts to feel sorry not only for the sentence, but—if such indulgences may be permitted—for Wallace, posthumous. Asking a reader to applaud every sentence is a high-risk endeavor, and threatens to bury this gem of an essay under a drumbeat of meaningful pauses. Had Wallace imagined every sentence would receive a curtain call, one wonders if he would have insisted, at the very least, on some footnotes.
Peter Stevenson is executive editor of The Observer. He can be reached at pstevenson@observer.com.