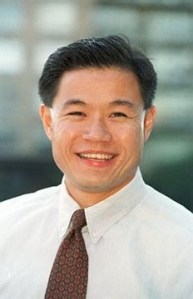 The Working Families Party has endorsed City Comptroller candidate John Liu, citing the "coalition" he's put together and his advocacy for "living wages jobs, affordable housing, and responsible contracting."
It's a major coup for Liu, who came into the race months after his opponents, Melinda Katz, David Yassky and David Weprin.
According to a source familiar with the party's vote tonight, Liu got 65 votes, Katz got 18, Yassky got 2 and Weprin got none.
Liu, it shouuld be noted, donated $10,000 to the party, as did Bill de Blasio, who is running for Public Advocate and has also been endorsed by the WFP.
Here is their official statement:
WORKING FAMILIES PARTY ENDORSES COUNCILMEMBER JOHN LIU FOR COMPTROLLER

New York – The Working Families Party today announced the endorsement of
Councilmember John Liu for New York City Comptroller following a vote by the
party's New York City Coordinating Council.

"This is the second most powerful office in the city," said Dan Cantor,
Working Families Party Executive Director.  "We want someone who will use
the Comptroller's power and pulpit to make this a city that works for all
New Yorkers. In John Liu, we have such a candidate."

"He has put together a broad, impressive coalition and laid out a vision for
a Comptroller who fights for living wages jobs, affordable housing, and
responsible contracting.  Liu will make our city more accountable, fair,
transparent and fiscally responsible."

The endorsement of Liu is the second citywide nod for the party following
the endorsement of Bill de Blasio for Public Advocate in March. In 2005, the
Working Families Party endorsed Bill Thompson for City Comptroller.