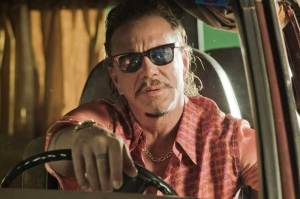 The Informers
Running time 100 minutes
Written by Bret Easton Ellis and Nicholas Jarecki
Directed by Gregor Jordan
Starring Jon Foster, Billy Bob Thornton, Kim Basinger, Mickey Rourke, Winona Ryder
A rancid load of swill called The Informers, from a depraved 1994 book by Bret Easton Ellis, is, like The Soloist, a look at the underbelly of L.A., but the resemblance ends there. This indolent trash wallow finds nothing of any redeemable value in the City of Angels, before or after dark. Mr. Ellis is the creepy, perverted literary soul mate of Jay McInerney, both of them chroniclers of the live and deaths of a generation of rich kids in the 1980s who have everything but remain clueless about what to do with it. They specialize in the burned-out boredom of self-destructive excess no amount of Botox can reverse. Like Mr. Ellis' Less Than Zero and American Psycho, the human rubbish in The Informers thrives on his usual fictional trademarks—alcoholism, heroin addiction, infidelity, male prostitution, pornography and puttin' on airs. The time is 1983, the people are sleaze bags with manicures snorting cocaine around heated pools overlooking the lights of Hollywood. The film opens when one of them is smashed and killed by a drunken driver in the driveway of a swank party where nobody runs out of cocaine long enough to mourn. What follows is a satirical rehash of every catatonic cliché.
Since The Informers is a plotless, meandering series of disjointed vignettes, there's no point in attempting a coherent synopsis of the narrative. You just have to follow the bouncing lost souls from needle to needle while they all vomit and throw up on each other in a miasma of sickness and pain. Graham (talented newcomer Jon Foster) is a bisexual drug dealer whose father (a sallow, emaciated Billy Bob Thornton) is a dope-addicted movie producer working on a project about a rock star sleeping with an alien. Graham's mother (Kim Basinger) is a doped-up sex addict who is sleeping with Martin (Austin Nichols), one of her son's best friends. Sometimes Graham sleeps with him, too, alone or in a threesome with his girlfriend Christie (Amber Heard), a wanton slut whose father is "on location" but never seen. Sometimes Christie sleeps with four or five guys at the same time, complaining of a strange rash, while the radio blasts warnings about a strange "sexually transmitted new plague" that everyone ignores. Another friend named Tim (Lou Taylor Pucci) is dragged off to Hawaii by his alcoholic father, Les (Chris Isaak), who spends his time picking up underage "jail bait" while trying drunkenly to save his son from being gay. Graham's miserable, brain-damaged parents talk about getting back together, although Dad is not over his affair with an over-the-hill has-been newscaster (Winona Ryder). When he drops by, he pulls down his pants, says, "I need a shot—do you have a needle?" His wife produces a syringe she keeps on the makeup table with her old lipstick tubes, and shoots him in the rear. With what? No attempt is ever made to bring any of these characters to the level of real life. They just shoot up with everything. Oh, I forgot. In the hotel where they stage all of their orgies, having no homes of their own to park their Jaguars, there's a desk clerk (Brad Renfro) whose uncle (Mickey Rourke) kidnaps little boys and sells them to preppie child pornographers in the slave trade. Everything revolves around a stoned rock group called "The Informers," which is as close as this thing gets to an explanation of the title. After the big concert, Christie gets left on the beach covered with lesions, to die of AIDS. Since she has already slept with just about everyone in the movie, I assume the other characters will soon die, too. Not a moment too soon, if you ask me.
The script, adapted by Mr. Ellis with an assist from Nicholas Jarecki, sounds like a death rattle already. The direction, by Australia's Gregor Jordan, makes a wan attempt to establish Los Angeles as the field of action, although it seems to take place on the moon. Not only is it depressing, amateurish and stupid—it is also utterly pointless. We learn nothing from the 1980s we didn't know already. So those rich, privileged kids with no guidance, role models or focus, and no moral centers, all came to a bad end and died young. Tough titty. Why do we have relive their trashed lives all over again? There is nothing pleasant, challenging, erotic, witty or thought-provoking here. Director Jordan, in the press notes, insists the film has renewed relevance in a post-conservative era "now that Bush is gone." That's the only laugh connected with The Informers.
rreed@observer.com