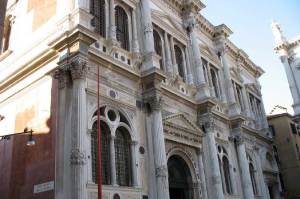 Jeff in Venice, Death in Varanasi
By Geoff Dyer
Pantheon, $24.00, 295 pages
Meet Jeff Atman, aging hack journalist:
"He was supposed to be writing a twelve-hundred-word so-called 'think piece' (intended to require zero thought on the part of the reader and scarcely more from the writer but still, somehow, beyond him) that had reached such a pitch of tedium that he'd spent half an hour staring at the one-line email to the editor who'd commissioned it:
'I just can't do this shit anymore. Yrs J.A.'"
It's downhill from there for Jeff. At 45 years old he's off on yet another junket, this time to Venice to cover the 2003 Biennale for the pretentiously named art magazine Kulchur. A freelancer, he's never written a book or made a splash that might have landed him assignments from Vogue or Vanity Fair. A nobody among his colleagues, he's a high-class amanuensis employed conducting interviews with people more talented and important than himself—poor Jeff's inner monologue is an endless grind of solipsistic self-torment. "The biggest joke of all—the thing that made him more depressed than anything," writes Geoff Dyer of the hapless hero of his brilliant new novel, "was that at a certain level he was considered successful. People envied his getting assignments like this."
It's more of the same when he arrives in Venice—until he chances to meet a younger writer named Laura (book deal, Vogue assignment).
Jeff's aimless existence rallies itself into organization around his desire for her. They fuck in expensed hotel rooms and snort cocaine on a friend of a friend's yacht. That their lives in Venice are ungrounded aside from their attraction to each other focuses that attraction into something closely resembling love, allowing Jeff, and also, I suspect, authorial Geoff (the slippage between them is, as always in novels where the writer shares a name with the protagonist, the fun part), to divagate on that "strange, modern form of intimacy … that made it easier to lick someone's ass than to ask when you might see them again."
IF YOU'RE A JOURNALIST, if you spend time at galleries or art fairs, you can read Jeff in Venice for its fresh observational humor and amusingly substance-starved conversation. But Mr. Dyer doesn't reference Thomas Mann's Death in Venice for nothing: Jeff in Venice picks up Mann's themes of yearning for beauty and lost youth, but also Mann's deadly seriousness of artistic purpose. Jeff Atman may be a shmuck, but he is a representative shmuck, capable, with the assistance of the usually sadistic but occasionally, strategically beneficent Geoff, of illuminations on art that are thoughtful and new to the precise extent that Jeff Atman is jaded and used up. Here, again disappointed in love and work, Jeff wanders into the Scuola Grande di San Rocco, where he encounters Tintoretto's spectacular wall-to-ceiling painting of the biblical prophets:
"Jeff's knowledge of the sources was a little sketchy; beyond the fact that these were biblical scenes, he was completely in the dark. As far as he could make out, Tintoretto had compressed the best bits of both Testaments into one building. In a way, though, it was an easy book to compress, the Bible. Basically things were always getting hurled—out of the light and into the darkness—or were ascending—out of the darkness and into the light, of which there was not a vast amount. Bearded prophets, swirling drapery and billowing clouds—it was all go up there. In marketing terms, though, the pitch seemed fundamentally and horribly flawed: the idea that we could be bullied into paradise."
IN Death in Varanasi, the second, more somber half of Mr. Dyer's diptych (and a novella unto itself), the author lifts the lid on his capacity for insight. The gears shift, and we now follow an unnamed first-person narrator, a freelance art-journalist who closely resembles Jeff Atman and whose work takes him to Varanasi, the city on the Ganges where devout Hindus burn their dead on outdoor pyres and spill their ashes into the sacred river. Mr. Dyer's Varanasi is at once parallel with and opposite to Venice: Venice during the Biennale is aggressively profane; in Varanasi, contemplation of the divine saturates the air, bending the spirits even of tourists passing through. And where Jeff in Venice is about the mysterious eruption of desire into a life that seemed irrevocably dulled by habit, Death in Varanasi is about the renunciation of desire and the hunger for stasis.
On assignment for the Telegraph, our adorably desperate hack retains the jokey skepticism that made him charming in Venice. But here, writing directly from his character's point of view, Mr. Dyer is able to let go of the momentum toward plot development that naturally arose from the "he said, she said" mode of Venice. Instead, the narrator (more and more dominated, I think, by the authorial Geoff) becomes an observer, an interpreting eye that floats fascinated through Varanasi's inconceivably crowded and complex society. Death in Varanasi grows into a tapestry of description—of India's art and culture, of the relationships the narrator strikes up and of his own mental state (which may or may not be Mr. Dyer's, too).
Mr. Dyer has written a book, Out of Sheer Rage, on D. H. Lawrence, but it's Henry James that emerges as the real influence on Varanasi. It first manifests itself in the double-negative atmospherics of the opening sentence—"The thing about destiny is that it can so nearly not happen and, even when it does, rarely looks like what it is"—and shows up again in Jeff's relationship with two of his traveling companions, a man and a woman:
"It is strange when two people fancy one another, when liking turns into reciprocated desire: it is tangible. You can see and feel it as a physical force, a kind of gravity. Even when they were talking, on opposite sides of the table, not touching, their arms were reaching towards each other. When they spoke, their lips were on the brink of touching, just through the word they used. I looked on. I didn't mind."
In another novelist's hand, that "I didn't mind" would be certain cover for jealousy, the first step toward a love triangle. But Mr. Dyer means it: His art is one of languid, suspended watching, lulling the reader into a morbid Jamesian arousal.
By the end of Varanasi Mr. Dyer has created a character whose stillness of mind is as compelling to the reader as Jeff Atman's lunging neurosis was in Venice. But Varanasi is the more serious project: There's much to admire in the steadiness, the thoroughness of description, the way Mr. Dyer, who is capable of allusion and eloquence, restrains himself, and keeps his character's mind so exquisitely focused on whatever passes before it—proof that the landscape faithfully observed comes to life of its own accord.
Damian DaCosta is a culture reporter at The Observer. He can be reached at ddacosta@observer.com