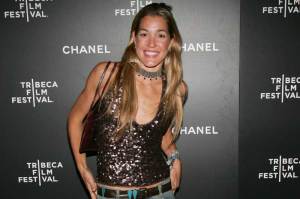 This January, The Observer reported that Marisa Noel Brown, one of the five supremely nice-looking daughters of spectacularly ruined Fairfield Greenwich Group founder Walter A. Noel Jr., was considering putting her new townhouse on the market.
"They kept saying, 'No, we're only thinking about it; we're not serious. And I kept thinking, 'Of course you are,'" a source said then about Ms. Brown and her husband, Matthew, who had been a managing director at his father-in-law's business. Fairfield Greenwich, Bernie Madoff's most prominent feeder, had a $7.3 billion fund wholly invested with the now-imprisoned financier; Noel family members reportedly invested "a very substantial part" of their assets with Mr. Madoff.
This week, a Rubenstein spokesperson for the couple confirmed that they're about to put that Indiana limestone–faced house at 12 East 78th Street on the market with Stribling's Patricia Farman-Farmaian, who is said to have represented the couple when they bought the house in January 2008 for $13.5 million, and Serena Boardman at Sotheby's. Neither would comment.
The spokesperson said a listing price hasn't been chosen, but a broker who got a message from Ms. Farman-Farmaian said the couple is already resigned to losing quite a deal of money: "$11.5 million is what the owners are selling for, but the gist of the message was, 'Make them an offer. They have to sell it,'" the broker said. "The message was, 'This is going to be a great deal, get in here.'"
John Woell, a partner at Steven Harris Architects, the firm hired to renovate the townhouse, said in January that he had been told the couple was keeping the house, and that work on turning it from a shell to something with "appropriate Upper East Side character" was continuing. On Tuesday, Mr. Woell said construction was moving at "a slower pace."
"I'm trying to get one of my clients to buy it. They apparently did all the demolition but can't fix it up, or don't want to," the broker said. "I told my guy he should offer them $8 million—because it's still a million dollars to fix this up." An $8 million sale would mean the couple would lose at least $5.5 million on the house. "It's literally the kind of thing that inspired me to call people who aren't in the market for real estate, because people say, 'If you hear of a really desperate situation, call me.'"
mabelson@observer.com