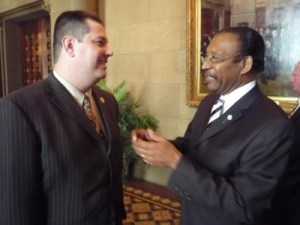 ALBANY—Lobbyists advocating same-sex marriage roamed the halls of the Capitol today, meeting with legislators in the hope they would sign on to support a bill introduced by David Paterson.
There is more movement on same-sex marriage in the Assembly. That chamber's judiciary committee today voted 14-5 to advance the bill to the floor. When it will be taken up is not immediately clear, but Assemblyman Danny O'Donnell, its sponsor, says he is confident it will pass by a wider margin than it did 2007. Some members who voted against it then, he said, have switched positions.
For example, Assemblywoman Janet Duprey, who represents the Plattsburgh area, after much deliberation announced two weeks ago she will support the bill.
"When you talk to the groups today and see their passion, it does solidify my faith that I made the right decision," Duprey told me on the Assembly floor. She says she has met with clergy and same-sex marriage advocates, and that it was the parents of gay children that had the greatest effect on her.
The bill's passage in the Senate is, not surprisingly, less certain, but State Senator Tom Duane said he believes it will pass this year.
"We'll have enough votes to pass it, and I'll get a few extra to spare," Duane told me after a rally this morning. He did not name names.
As advocates of the measure demonstrated outside, I spoke to Jason McGuire of New Yorkers for Constitutional Freedoms, and State Senator Ruben Diaz Sr. in the Senate lobby.Both are outspoken opponents of the legislation. Diaz urged me to accompany him to Puerto Rico this weekend, where he insisted he's a big man. Then he talked to me about the advocacy.
"It's their right to do," Diaz Sr. said. "And I hope they respect mine when my time comes—soon."
McGuire smiled.