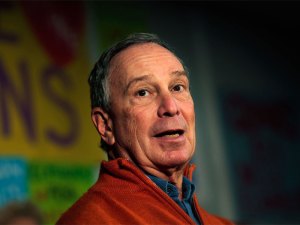 Facebook is in talks to open an official New York City office location, Mayor Michael Bloomberg told a crowd of journalists at the Brooklyn Navy Yard today. Although a "secret" Facebook office on Fifth Avenue at 45th Street has been open for some time, perhaps Facebook's boy wonder founder Mark Zuckerberg will expand the under-the-radar outpost and finally make some big-time deals with Madison Avenue. "We already have an office in New York City," Larry Yu, a Facebook representative emailed to The Observer. "I can't comment or otherwise provide details about talks that may be taking place with the city."
But, according to Mayor Bloomberg, he "met with people from Facebook the other day. They're opening an office here."
When a reporter questioned him further, the mayor confirmed he had "talks" with them and they'd be interested in working on advertising and sales deals.
"This is the business capital of the world and Facebook is one of those advertiser-supported services," he said. "The last time I checked they had over two hundred million users. It's a phenomenally successful service and I'm just thrilled that they want to have a New York office." The Observer's political reporter Azi Paybarah sent us the scoop and captured this video of Mr. Bloomberg discussing Facebook.
On Wednesday, Sheryl Sandberg chief operating officer of Facebook, delivered a keynote speech at the AdAge Digital conference on West 18th street. "We're here today to talk about how many friends you can have," according to a CNET report. "This is certainly something I thought about a bit before I joined Facebook, but in the last year, this has been a major question in my life." And, apparently, it's about to be answered, Sheryl!