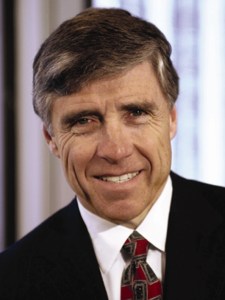 There are no two ways about it. Midtown Manhattan—the epicenter of New York City's office market—is in crisis. Such was the unavoidable message of CB Richard Ellis' first quarter breakfast this morning, where Tri-State Chairman John Powers, in unusually professorial form, gave reporters the following grim stats: There are 30 million square feet of available space in midtown (of 222 million square feet total in midtown) . About 10 million of it is sublease space. Seven million of that space is, in his words, "unmarketable."
To illustrate why, Mr. Powers gave the reporters and brokers assembled on the 18th floor of the Met Life building a thought experiment.
Imagine a tenant is trying to sublease 30,000 feet on Lexington Avenue. The lease has three years remaining on its term, and the tenant is paying $80 a square foot. The tenant's broker finds a subtenant willing to lease the space for 10 years at $55 to $60 a square foot (three years from the tenant, and seven years directly from the landlord), with one year free rent and $25 per square foot for tenant improvements. Can the deal be done?
At the moment, it's unlikely.
"We don't have congruence on the future market," Mr. Powers said. In other words, why would a landlord, a creature who is by nature optimistic, agree to low rents in three years time, if he believes the market will improve more quickly? "The landlords are still optimistic and don't have to worry about the space for three more years," Mr. Powers said "These negotiations will go on in hundreds of deals in the next few years."
Interesting. But that's not the whole story.
Here's how this recession, what Vornado's Steve Roth has taken to calling the Great Recession, stacks up to prior downturns, and prior years.
During the 1991 recession, Manhattan availability hit 18 percent. In the 2003 recession, availability hit close to 14 percent. So far, in this recession, the availability rate is almost at 14 percent.
"It will continue to climb, but it will not hit '90/'91 levels because we were not overbuilt going into it," Mr. Powers said.
Meanwhile, leasing has ground to a near-standstill in almost all sectors of the market, except the under-25,000-square-foot sector. In 2007, 22.9 million square feet were leased in Manhattan. In 2008, 17.6 million were leased. By April 2009, only 2.7 million were leased.
The result: asking rents have dropped dramatically. In midtown in 2007, the average asking rent was $83.37. In 2008: $78.89. By April 2009, $65.59.
In midtown south, the average 2007 asking rent was $51.48 in 2007. In 2008: $52.43. And by April 2009: $47.90.
In downtown, the average 2007 asking rent was $47.26. In 2008: $47.68. April 2009: $43.17.
In March alone, 1.6 million square feet of space were discounted, on average 11 percent (which is nothing compared to January, when 3 million square feet were repriced, on average by 17 percent).
"The recession started in September 2008, but it wasn't until September 2008 that a single space was repriced," Mr. Powers said.
CBRE put some effort into finding something positive to say at the breakfast. Here's what they came up with. Jim Costello, a principal at CBRE Econometric Advisors (formerly known as Torto Wheaton Research), presented the five signs that would indicate a road to recovery.
1-Growth in personal consumption
2-Increased corporate profits and production
3-Growing demand for new hiring
4-Increased pace of personal savings and investment
5-Positive trends in financial services employment