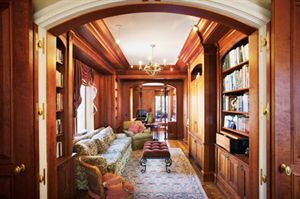 William A. Ackman, a handsome 42-year-old with a multibillion-dollar hedge fund, is the type of gigantic, sharp, loquacious corporate raider (or activist investor) who can sit across from Nobel winner Joseph Stiglitz on The Charlie Rose Show and make him look unexceptional by comparison. He took on Wendy's and McDonald's; survived a Spitzer investigation into his criticism of the giant bond insurer MBIA (which ended up with S.E.C. fraud charges); and he wants to be put on Target's board next month even though his gargantuan investment in the company has been a well-publicized mishap.
But when Mr. Ackman wanted to put his 19th-floor, 11-room, four-bedroom, two-terrace apartment at the Majestic on Central Park West on the market for $12 million, he bowed to the will of his mother-in-law, Marilyn Herskovitz.
The Elliman executive vice president listed the co-op last week for $10 million. "It's my mother-in-law; I didn't want to argue with her," Mr. Ackman said Monday. "I think it's worth more, but she insisted on the asking price. But she's my mother-in-law! What can I say?"
According to Ms. Herskovitz's listing, Mr. Ackman might provide a mortgage to a qualified buyer. "If someone can't get financing because there's no financing in the world right now, I'm happy to provide seller financing," he explained. "In a world where there are very few jumbo mortgages, I'm happy to make a loan." Who came up with the idea? "My mother-in-law."
Her listing puts the co-op's size at 3,000 square feet, which apparently doesn't take into account the separate one-bedroom guest suite directly downstairs, or the co-op's two terraces. One stretches from the 24-foot-long living room to a bedroom to the master bedroom suite, which has two walk-in closets; the other winds along the apartment's cherry-paneled office/library, a bedroom, a pine kitchen with a breakfast room, the chandeliered dining room and a fourth bedroom.
Mr. Ackman and his wife, Karen, bought the downstairs guest apartment in 2007 for $450,000, though their 1997 purchase price for the co-op isn't listed in city records. In 2006, they paid $26 million for a duplex a few doors down at the Beresford, which reportedly completed Mr. Ackman's "comeback" after the collapse of his firm Gotham Partners in 2003, the year he founded Pershing Square Capital Management.
Why isn't he waiting for the market to rebound before listing the co-op? "Look, it's a unique apartment. It's a one-of-a-kind apartment," he said. "It's the only one like it in the Majestic. My experience is that one-of-a-kind apartments retain their value."
UPDATE, Thurs. 6:08 pm: Mr. Ackman has put up a pretty beautiful Web site called 115cpwnyc.com, which features a fairly intense floor plan, close-up details, and contact information for his mother-in-law Ms. Hersokvitz.
mabelson@observer.com