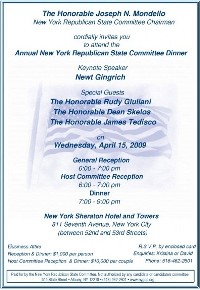 BALLSTON SPA—Officials at the Republican State Committee sent out an email yesterday updating the invite speaker list for their annual dinner in Manhattan to include Brian Kolb, the newly elected minority leader of the State Assembly.
Kolb will speak along with former Governor George Pataki. Both will "join an already star-studded lineup of political leaders" that includes Rudy Giuliani and Newt Gingrich, the e-mail said.
"You're getting everybody who's coming back home. Everyone is starting to rally around and unify, and they're getting energized," said Matt Walter, the party's executive director.
The dinner – scheduled for Wednesday night at the Sheraton Hotel in Manhattan – comes at a critical point for State Chairman Joe Mondello, whose term expires in September.
Several prominent Republicans have said they expect to hear whether Mondello, who has been criticized for the party's loss of the State Senate in November and poor showing in the special election to replace Kirsten Gillibrand, plans to serve out his term, bid for another or step down sometime over the summer.
"We can't get him out soon enough," one said.
While he promised to build up his party's bench back in December, some people have read into the dinner line-up a good deal of status quo and a lot of older white men with "former" before their titles.
Two potential successors to Mondello – former state senator Ray Meier and Niagara County Chairman Henry Wojtaszek – both confirmed they will be at the dinner. As will gubernatorial hopeful Rick Lazio.
Tickets to the dinner cost $1,000 or $10,000 including a host committee reception beforehand.