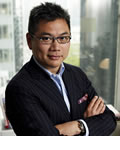 In separate meetings this morning, editor Joanne Lipman and publisher William Li broke the news to the staff of Portfolio that the magazine was folding.
Mr. Li said in an interview with The Observer this morning that he was only made aware of the news earlier today. When he walked through the lobby of 4 Times Square this morning at 7:45 a.m., he knew he had a meeting scheduled with the group president of Portfolio, David Carey, but he wasn't aware of anything else.
The meeting involved Mr. Carey and senior management of Condé Nast (Mr. Li declined to say who specifically). As soon as he entered the room, he knew what it meant. "Times have changed and businesses need to make tough decisions," he said. "I don't blame them. Am I upset? Of course I'm upset. But I understand."
"I feel terrible about it," said Mr. Carey, the magazine's first publisher who has since been promoted as the Condé Nast group President and oversees Mr. Li and the magazine. "I believe in this concept and I believe in this product. And I hear from enough people to know the impact it was making in the world, but to reconcile that knowledge with a very sober take on the business climate is a terrible feeling. I feel terrible for this loss and I've received a number of emails this morning from people and CEOs saying how much they enjoyed Portfolio. We had a very good thing going on the editorial front, but like anyone who launched a new business in 2006 or 2007 or made a major acquisiton in 2006, we're finding it's very tough to match the expectations at the launch to the reality of today."
Mr. Carey, likewise, said that he only found out this morning, but that he had a "strong sense" late last week that Condé Nast executives were coming close to pulling the plug.
He said that the magazine had through the end of 2010 to prove itself financially, but that with 18 months to go, it wasn't going to happen.
"The gap is too big from where we are now to where to need to be," he said.
Since Portfolio was effectively saved last October by the company—instead of folding the magazine, its publishing schedule was reduced to 10 issues a year, and it laid off almost the entire Web team—it has been open season on the magazine, and its editor, in particular within the building. Editors at other magazines grumbled to colleagues and friends that it was a wonder the magazine was still in business. Condé Nast staffers were left scratching their head as to why they had to make repeated expense cuts, yet Joanne Lipman's first class air ticket to Davos was paid for by the company. When we asked Mr. Li about this, he strongly defended Ms. Lipman.
"She changed business journalism," he said. "Portfolio changed business journalism. The whole idea of writing breathlessly glowing profiles of CEO, we didn't play that game. And you know what, good for her. And good for John Cassidy and Jesse Eisinger," he said, referring to the magazine's contributing editor and senior writer.
"I'm proud of the fact that in our first year we won a National Magazine award," he continued. "Business Week and Fortune? Please, that never happened. We were just nominated for two Webbys!"
It's unclear right now whether staff will stay within the company—there is a plan to keep as many people as possible—though editor-in-chief Joanne Lipman is out at Condé Nast, according to one source. According to a Portfolio staffer, some have taken to toasting the news of the magazine's closure with a Stella Artois—the official beverage of magazine closings.
This story was updated at 1:05 p.m.