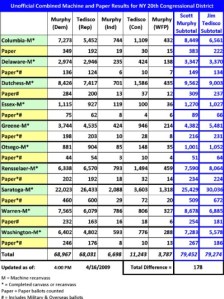 ALBANY—Democrats are accusing Republicans of walking away from the counting table in Dutchess County with the absentee ballots from three towns still unopened, thereby stalling a recount of the election between Scott Murphy and Jim Tedisco for Kirsten Gillibrand's open House seat.
One of the Republicans charged with adjudicating ballot objections took the day off to attend a baseball game.
Results released this morning by the State Board of Elections show that with more results in from Columbia and Washington counties, Murphy's lead has more than doubled, to 178.
In Dutchess, things have come to a halt. In order for the recount to proceed, elections officials from both sides must be present. According to the Democrats there, the Republican officials who were present left their station in the offices of the Dutchess County Board of Elections in Poughkeepsie at around 2:30 this afternoon and didn't return.
Daniel French, a Democratic official with the Dutchess County Board of Elections, said that they couldn't complete the recount because Republican elections Commissioner David Gamache was attending a Yankees game this afternoon with John Ciampoli, an attorney for state Republican Party chair Joe Mondello.
French says that Gamache had authorized a deputy commissioner, Patricia Hohmann, to fill in for him at the table, but says that Gamache only authorized her to count military ballots—which generally tend to skew Republican—from towns from which domestic absentee ballots had already been counted.
Once the military ballots were counted, French said, Hohmann simply left, with three towns' worth of absentee ballots—from Stanford, Unionvale and Washington—still unopened.
Gamache couldn't be reached for comment. A woman who answered the phone at the board of elections said he was "unavailable."
Hohmann did not return a call seeking comment.
I reached Ciampoli on his cell phone.
"Who cares?" he said, when I asked if he was attending this afternoon's game. "So what? Counsel had an agreement as to what work needs to be done, and we're abiding by that."
He noted that one of the Democratic attorneys, Joshua Ehrlich, has tickets to see the Dead this weekend. (Erlich is indeed going to see the Dead, but the concert is at night when there's no recounting scheduled.)
A spokesman for Tedisco's campaign did not immediately return a call for comment.