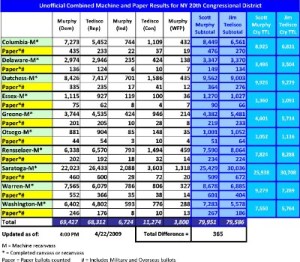 ALBANY—Democrat Scott Murphy's lead over Assemblyman Jim Tedisco in their race to replace Kirsten Gillibrand in Congress has grown to 365 votes, the latest official tally shows.
According to the State Board of Elections, the overall tally now stands at 79,751 79,951 for Murphy; 79,586 for Tedisco. The new tally reflects updated numbers from Warren and Essex counties. Counting is still taking place in Saratoga and Washington counties.
Most of Murphy's gain came from Warren County, Democratic Elections Commissioner and Party Chairman Bill Monfort said. The new overall number reflects a tally from 250 ballots set aside and now counted in the last two days.
Counters from both campaigns will meet tomorrow at the State Board of Elections to deal with ballots that were objected to because of stray or unclear markings. A judge Monday will set a further schedule for counting ballots that have been objected to because of multiple residences or other problems in their applications.