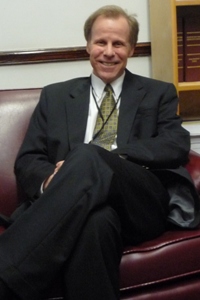 ALBANY—State Senate Democrats have hired a communications director: Brian Keeler.
He has long ties to blogging and new media. After an unsuccessful bid against State Senator Steve Saland in 2006, Keeler co-founded the Albany Project blog. He currently works with VShift.
"The thing that I like about Malcolm and Angelo is that they understand the new media, they understand the importance of new communication tools, and they are willing people like me who have the background on blogs and in the net roots. I'm not your traditional kind of communications director," Keeler said in a brief interview Thursday. The Senate Democrats have promised to focus on new media, and hired Andrew Hoppin as part of their general, Rasiej-ward shift.
"I think a recent poll showed that 67 percent of people in America are finding the internet as their main news source. And for us to ignore that would be a huge mistake. So although I won't be totally focused on the internet, I think we have to make sure that people who read newspapers get accurate information from the State Senate, people who are online, people who download video from their telephone, people who twitter – all of these platforms will be coordinated," he said. "My job is to be the maestro and make sure they're all playing the same song."
So will that mean a Malcolm Smith Twitter feed?
"I think there's plans of that in the offing," he said. "I've still got to talk to Malcolm about that."
Keeler started work Thursday and is paid $145,000.