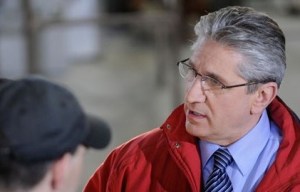 ALBANY—Some, but not all of the ten counties that comprise New York's 20th congressional district have started counting absentee ballots in the neck-and-neck race for Kirsten Gillibrand's former House seat.
The State Board of Elections will release their update Thursday morning around 10 a.m., spokesman Bob Brehm said. As of Tuesday, Assemblyman Jim Tedisco was leading by 17 votes. 
I don't have anything resembling an overall updated tally, but for those who can't wait until then, here's what I do have:
According to county elections officials, counting has not begun in Warren, Washington, Essex or Otsego counties. Officials there have focused on preparatory work for counting absentee ballots; officials in Essex and Washington counties told me they were going through and checking absentee ballots against poll books to ensure that no one who submitted a paper ballot voted in person.
"At this point, it doesn't look like we'll be opening them tomorrow either," said Donna English, a Republican election commissioner in Washington County.
A deputy commissioner in Otsego County told me that staffers from both campaigns were allowed to look at the ballots Wednesday, decide what, if anything, is objectionable; the county will begin opening them Thursday.
From various tallies I've cobbled together, it sounds like Democrat Scott Murphy has picked up some votes in Rensselaer, Dutchess and Delaware counties. I haven't heard anything from Saratoga County, which is significant because it's both a Republican stronghold and the most populous of the ten counties in the district.
Murphy campaign spokesman Ryan Rudominer said that after Deleware County finished its count, Murphy had gained 20 votes. Tom Wade, chairman of the Rensselaer County Democratic Party, said that Murphy gained 10 total votes there, with 49 ballots unopened. (These include ballots from overseas citizens and military voters, which cannot be opened until April 13, and some ballots that were found objectionable by campaign staffers and laid aside.)
Virginia Martin, the Democratic elections commissioner in Columbia County, said Murphy gained 40 votes there today. That tally only includes absentee ballots – not emergency or affidavit ballots – and comprised seven election districts.
David Gamache, the Republican elections commissioner in Dutchess County, said Murphy picked up 13 votes there after counting ballots in the towns of Pine Plains, Amenia and Clinton.
John Ciampoli, a lawyer representing the Republican State Committee, was there for most of the day and said by phone he objected to "several" ballots.
"If we have reason to believe that there's something physically wrong with the application or the ballot, we object," he said. Ciampoli said he wasn't certain whether counting would be slowed tomorrow or Friday because of religious holidays.
I asked him how long this could take.
"I can't tell you," he said.